This article is more than 1 year old
Assassin's Creed: Brotherhood
Taking the hit
All for one
Any remaining challenge is nullified around the game's halfway mark by the introduction of the eponymous Brotherhood. Up to a dozen citizens can be rescued from the Borgia and recruited into the new Assassin's Guild. Once recruited, it's another simple button press to instantly call assassins to fight for you. With XP rewarded through fighting, or through their deployment on missions throughout Europe in an entertaining metagame, it's not long before their strength and skills rival yours.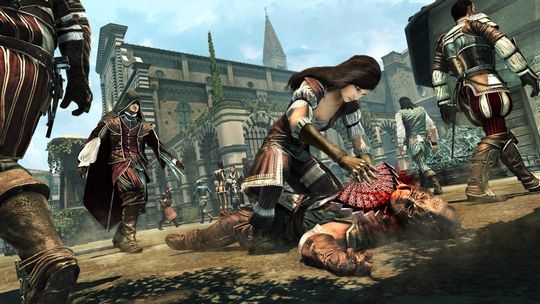 Pick a card dammit, don't tell me…
However entertaining the metagame, and however much paternal pride there is in watching your deadly fledglings appear from nowhere and kill with rapier speed, the introduction of additional assassins into ACII's formula – which already allows players to hire mercenaries, thieves and courtesans – proves unnecessary.
Despite improved missions throughout its second half – the best of which see you aiding your old friend Leonardo da Vinci in sabotaging his war machines – the game never recovers from its lack of challenge. Indeed, Brotherhood's only real challenges are in ignoring its frame rate dips and constant screen tearing, and in deciphering its plot. Indeed, if the writers hope to salvage the desultory threads of ancient super civilisations, secret societies and doomsday prophecies, and weave them into an intelligible denouement for Assassin's Creed III, they'd better pick up the phone and call Dan Brown.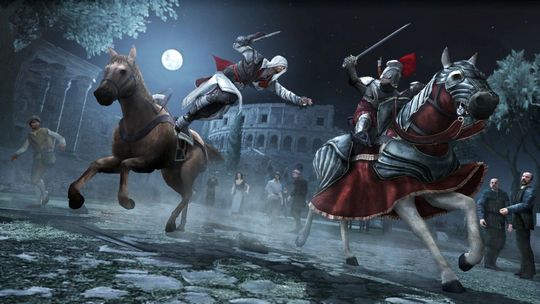 Upgrading to more horsepower
Verdict
Despite the screen tearing and poor frame rates – which plague both the 360 and PS3 versions – Assassin's Creed Brotherhood is a technical marvel. Its beautiful depiction of 16th Century Rome is replete with life and charm, and there's plenty to entertain and divert in its vast open world. But sandbox games are most effective when empowering players through an abundance of choice, and here the choice is just too damned stark. If you want to retain a modicum of challenge in Brotherhood, you're going to have to ignore all of its innovations. ®
More Games Reviews

Super
Meat Boy
Call of Duty:
Black Ops
007
Blood Stone
Star Wars:
The Force Unleashed 2

Assassin's Creed: Brotherhood
Feels too familiar for veteran assassins and offers too little challenge for all. Available on PS3 (tested) and Xbox 360.