Buffy to slay her way back into cinemas
Another 're-imagining' of cult character
---
Fans of Buffy the Vampire Slayer should brace themselves for a cinematic "re-imagining" of the cult character, which producer Charles Roven describes as a "a completely new reboot".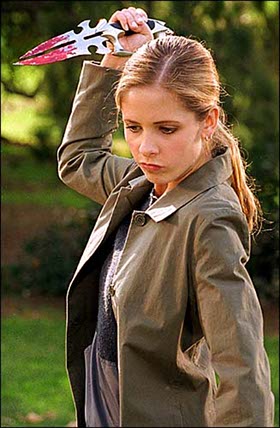 'Re-imagine this, mate.'
Roven's Atlas Entertainment is working with writer Whit Anderson, whose take on Buffy is "pretty compelling and a lot of fun", as the Batman Begins producer put it.
He said: "There is an active fan base eagerly awaiting this character's return. While this is not your high-school Buffy, she'll be just as witty, tough and sexy as we all remember her to be."
Joss Whedon, who created Buffy for the original 1992 film and subsequently guided her to TV success, will play no part in the project.
Although Whedon wrote, produced and directed the hit TV series, he apparently does not own the film rights. He told E! Online: "There is no legal grounds for doing anything other than sighing audibly."
Anderson is aware that in Whedon's absence, "the most devoted fans of the old series will be keeping a skeptical eye on this nascent revival - and sharpening their wooden stakes".
She assured the LA Times, though, that she'd "take the touchstones of the Whedon world but frame them in 'a new story' that is very much of the moment".
Just when the all-new re-imagined reboot of Buffy the Vampire Slayer hits the big screen remains to be seen. Director and cast are yet to be announced, while Anderson continues "fighting through" the script. ®