Search and ad giant Google has handed $100,000 to Bletchley Park to back the museum's bid for the Alan Turing papers, which go on sale at Christie's later today.
The auction, which will also see an Enigma machine and an Apple I go under the hammer, starts at 2pm.
Bletchley Park is trying to raise the expected £300,000 to £500,000 ($480,000 to $801,500) required to save the Turing papers for the nation.
The lot includes 15 of his 18 published papers collected by Turing's friend, fellow Bletchley Park decoder Professor Max Newman.
A Google spokesman confirmed the donation to El Reg this morning.
There are details and pictures of the Turing papers here.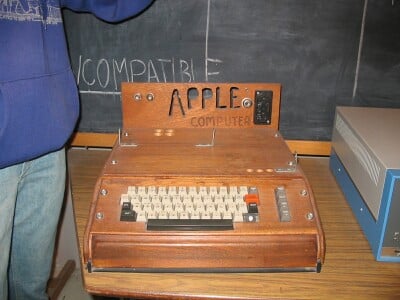 Apple 1 - lots of lovely wood
The auction also sees some interesting hardware go under the hammer. An Apple I, one of only 200 made, is expected to sell for between £100,000 and £150,000.
Alternatively, you should be able to pick up an Enigma machine for between £30,000 and £50,000. ®
Similar topics