This article is more than 1 year old
Apple MacBook Air 11.6in sub-notebook
The beauty and the boast
Review I took a look at the 11.6in MacBook Air for Reg Hardware almost a day after the new line-up of skinny Macs was announced. I've now had a chance to use one in earnest - and benchmark it - to see if my initial thoughts are born out by longer term usage.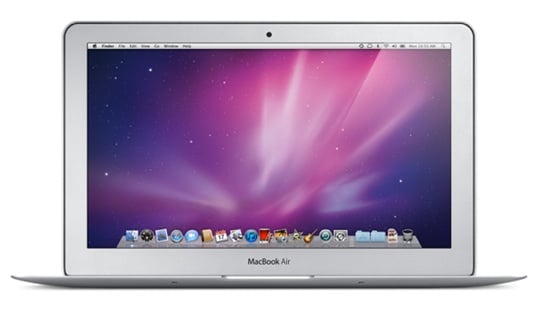 Apple's MacBook Air 11.6in: smaller and lighter than a netbook, but much more powerful
From both performance and portability perspectives, the 11.6in Air turned out to be better than I'd hoped. I had the bottom-of-the-range 1.4GHz Core 2 Duo SU9400, 2GB 1066MHz DDR 3 memory, 64GB SSD model to play with. The CPU is clearly no Core i - it may be a dual-core chip, but it lacks HypeThreading - yet it can lick any Atom processor you care to name, including the new 1.5GHz two-core, four-thread N550.
The Air, then, is no mere netbook.
And yet it's a darn sight more portable than one. The component that most affects the Air's size is its keyboard - full-size and a joy to use, as is the huge trackpad that puts all those piddly netbook ones to shame. The keyboard is wider than the 1366 x 768 glossy display, which makes the Air in turn larger than most notebooks. It's a good 35mm wider than the 10.1in Asus Eee PC 1015PEM I have on the bench next to it, and slightly deeper.
But, oh, how much thinner and - crucially - lighter it is. The Air's footprint isn't going to trouble anyone, but what might is its thickness and weight, both of which matter if you're carrying a computer around in your hand or under your arm.
I don't think I've ever had a computer that's as comfortable to close and carry as this one. It's 15mm at it's thickest point - the back end - and it's just so easy to hold as you would a folder or a book. Its 1.1kg isn't taxing it all.

Slim is in
The Eee PC, by contrast, is 35mm - more than twice as thick - and that, like the figure I've quoted for the Air, excludes the feet. It feels positively bloated by comparison. It's only 20 per cent heavier, but you notice the extra.