This article is more than 1 year old
Kingston HyperX Max USB 3.0 128GB external drive
SSD on the go
Performance tests
However, CrystalDiskMark benchmark tests suggested rather less ambitious figures regarding the capabilities of the HyperX Max. Despite falling short of Kingston's claimed performance, the HyperX Max is still quite an impressive piece of hardware, managing to make more out of the USB 3.0 interface than any other device I have tested so far.
Benchmark Tests
CrystalDiskMark 3.0 Results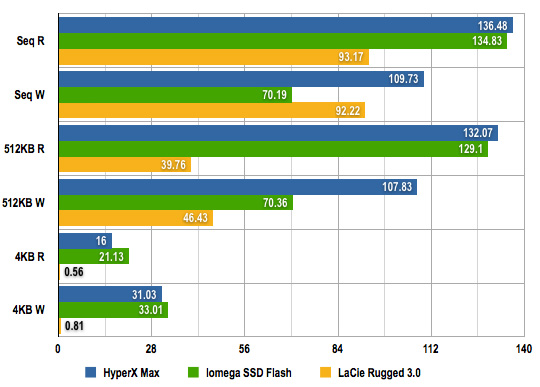 Throughput in Megabytes per Second (MB/s)
Longer bars are better
In fact, compared to its closest rival, Iomega's SSD Flash drive, the HyperX Max is on par in most fields, but zooms ahead when it comes down to write performance. Also included in the benchmarking comparison is LaCie's Rugged 3.0 drive, as it is the fastest HDD-based, USB 3.0 portable drive I have tested. Unsurprisingly, the SSDs have a huge throughput advantage, especially in terms of random I/O operations.
Apart from performance, the Kingston also beats the Iomega on price at £220 for 128GB HyperX Max compared to the £325 for the SSD Flash.
Whilst I would normally be tempted to recommend a solid state drive almost regardless of price, the HyperX Max lags quite a way behind SSDs designed to replace Sata internal hard drives by around 100MB/s. With that drop in performance, it's hard to recommend spending the money on the higher-capacity models. Nevertheless, this external drive certainly outperforms its HDD-based counterparts.