This article is more than 1 year old
Kingston HyperX Max USB 3.0 128GB external drive
SSD on the go
Speed limits
With the performance figures in mind, curiosity got the better of me and I cracked the drive open. Inside the 128GB HyperX Max is a standard Sata SSD comprised of Toshiba TH58NV-based MLC Flash chips managed by a Toshiba T6UG1XBG controller, which is the same as featured on Kingston's SSD-Now drives. All of this is standard SSD equipment and resides on one board, which is in turn plugged into a Sata-to-USB 3.0 adapter.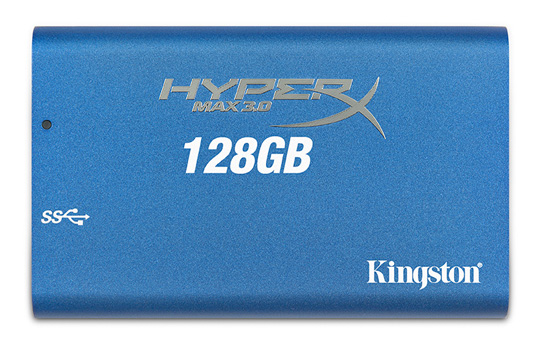 Pocket-friendly in more ways than one
Essentially, the HyperX Max is an SSD-Now packaged into a USB 3.0 enclosure. And if you're wondering what happened to that 100MB/s drop in performance, it would appear that it's all to do with the Sata/USB 3.0 adapter. I say this because I took the Sata SSD drive out and tested it with CrystalDiskMark on a Sata bus. Clocking up sequential read and write speeds of 234MB/s and 193MB/s respectively, the figures rang true with other Sata SSD product tests, as did the random read/write benchmarks.
Verdict
USB 3.0 adapter bottlenecks aside, the HyperX Max still manages a respectable performance as an external storage device. At £125, the 64GB version is an alternative to Kingston's smaller, but slower, DataTraveler Ultimate USB 3.0 thumb drive. It's cheaper too, so it could be worth a punt for those who value speed over capacity and don't mind carrying something a little bit bigger. ®
More USB 3.0 Gear Reviews...

Buffalo
USB 3.0
ExpressCard 34
Kingston Technology
DataTraveler
Ultimate 3.0
Iomega
eGo
USB 3.0
LaCie
Rugged
USB 3.0

Kingston HyperX Max USB 3.0 128GB external drive
Slimline, portable SuperSpeed flash drive.
Price:
£125 (64GB), £220 (128GB), £440 (256GB) RRP