This article is more than 1 year old
Symbian, The Secret History: Dark Star
How it almost never set sail
"Will you die like Apple?"
Mark Gretton was given the job of putting together a licensing operation. Psion's internal experience of licensing was non-existent. Stephen Randall, an entrepreneur who had just sold his software company, The Eden Group, happened to be free. Eden had produced the software and firmware for Amstrad's PenPad, one of several pen computers in the early 1990s, and knew all about licensing.
Randall says he happened to meet Psion chief executive David Potter when the chief was in a particularly grumpy mood.
"I'd been introduced to Potter by Ken McAlpine - a fabulous hardware engineer. Coming out of the office was a reporter from the Sunday Times. And the reporter had ended the interview by asking him - would Psion die like IBM, or would Psion die like Apple?"
Both were vertically integrated computer companies; IBM didn't license its software at all, while Apple licensed too late and was being destroyed by clone Mac manufacturers. Conventional wisdom instead favoured horizontally integrated companies that licensed their software, lowering costs for the market.
Randall's view was that Psion had to "cannibalise" its vertically integrated products - before somebody else did.
"Potter knew a world where you could make a $200 margin per device, but the market wasn't growing, and Microsoft was coming."
"Potter said that intellectually we agree, we think we should license. But it's not in our DNA. We don't know what to do."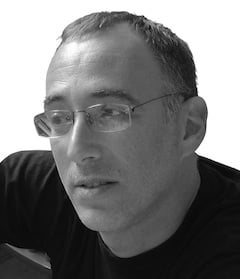 Stephen Randall
Randall says he was retained for a month. He sketched out a plan where Psion could be divided into three companies.
It wasn't an easy sell...
Randall said he had recommended that Psion split into independent companies. He presented a three-way split: computer, software, and industrial. There were 80 engineers in software.
When he presented this to the executives, he was met with hostility.
"Peter Norman, who was running the computer side of things, was championing products, and said 'over my dead body'."
The board backed Norman, and voted against it.
Randall admits the challenge was daunting.
"I also remember saying to Colly Myers, this is a far too technical company for me - I'm not an engineer. I'm passionate about this strategy. He said we're all engineers - we need more people like you not us." Randall found an ally in Juha Christensen, a bright marketing executive who had been fast-tracked by Potter.
"Juha really got licensing," says Randall. Christensen was studying for an executive MBA at London Business School.
The board approved the company split in the spring of 1996, and a tiny team began to take the unreleased OS to prospective licensees.
Licensing meant that the Psion Computer group had to stand in line, like everyone else, for Psion software. And the hardware group was free to choose any OS it thought it could sell - including Windows CE. Not that this was a choice they favoured. "The hardware side didn't want Windows and still felt miffed."
At the start of 1995, Microsoft had assembled a team codenamed Pegasus – for a Psion Series 3 form-factor QWERTY palmtop, also powered by two AA batteries. Only this would support stylus input, and a 32bit operating system.
Microsoft ordered hundreds of Series 3s for the engineers to analyse. Like many unannounced Microsoft products, it sounded daunting.
One was George Grey, who'd founded Tadpole as a fresh graduate in 1983, and just departed as its CEO. He wanted to put Epoc in a larger, sub notebook. (Grey would later join Psion US.)
"I said: 'The truth is, we're not ready to license. But if you don't mind us practicing on you, we can do a deal'," Randall said.
But Gretton, Randall and Christensen were about to score a major win.