This article is more than 1 year old
Symbian, The Secret History: Dark Star
How it almost never set sail
Welcome, Nokia
Nokia had transformed itself in 1991 out of necessity. With its roots as sprawling, soup-to-nuts Victorian-era industrial conglomerate, Nokia still retained its interests in PCs and TVs, and even cabling and rubber products. But it had earmarked mobile telecomms as the richest area for growth. With the telecomms markets becoming deregulated, and licensees opened to the private sector, this was brilliant timing.
As American investors poured billions into a vision of mobile data based around pen computing, Nokia had other ideas. A 1991 patent for a "Portable Personal Computer and Mobile Telephone Device" reveals its thinking. It was the first communicator, and one of its inventors, Mikko Terho, was to play a pivotal part in the formation of Symbian.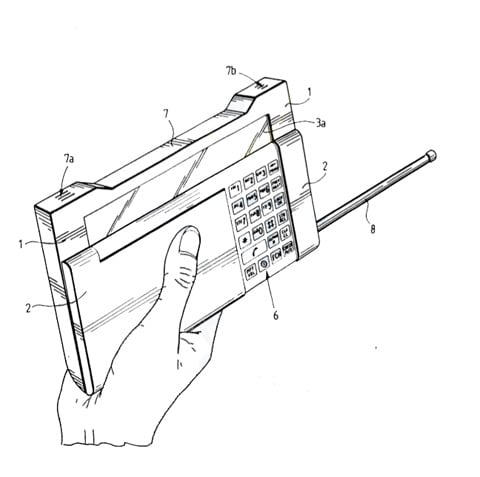 Nokia and Psion had already worked together, and the Psion gave the Finnish giant an early glimpse of its 32-bit Epoc system. In November 1994 Psion and chip designer ARM jointly pitched the idea of a "future communicator" to Nokia. Nokia liked what it saw. It had been evaluating it in depth as it evolved – and executives say it was keen that its rivals didn't find out.
For its own part, Nokia had already put Terho's vision into practice.
Nokia had developed a shotgun marriage of a GSM mobile and a Psion-like palmtop PDA, calling it a Communicator. The Nokia 9000 was a monster. It weighed almost half a kilo, and was an experiment for Nokia as much as Intel, which had provided the 386 chip. David Potter was derisory, describing it as "a bird that couldn't fly".
But the 9000 became a niche hit. The Communicator could send and receive faxes on the go, do email, and even telnet into internet servers. Ironically, it used GEOS OS, the company to whom Randall had sold Eden. As the licensing team paid increasing visits to Nokia, Geos staff would encounter Psion staff in the reception at Tampere.
"One of the hardest things in the world is telling successful people they're wrong"
On 18 December, senior direct reports from Nokia visited Psion's London office, and a deal was thrashed out the following January. Nokia would base its future Communicators on Psion's as-yet unreleased OS, Epoc, and the first of these would be a device codenamed "Linda".
"There was great affinity from the start," said Randall. "Nokia and Psion on the early days was almost a match made in heaven. But Psion was never so organised. It was like looking up to a father figure."
It was a huge win for Psion Software. But one casualty was that after the Dancall purchase fell through, Psion invested heavily in equipment to produce its own GSM mobile comms. A million pounds was spent on RF equipment, but this had to be mothballed.
There were tricky problems for Nokia.
"Nokia couldn't tell the world they'd already ditched the GEOS OS," says one of the Psion team.
Microsoft makes its move
At Comdex that year, Microsoft unveiled its Pegasus project, called Windows CE. It had signed up Casio and others to release Psion-like palmtops – but they were poorly received. They were ungainly and couldn't match the performance or battery life of Psion's machines. Nevertheless, fear of Microsoft was perceptible.
"We said to Nokia, the world thinks the solution is Microsoft. The US didn't know us – they hadn't got a clue who Psion is. But the Nokias don't want to give their business to Microsoft," Randall remembers.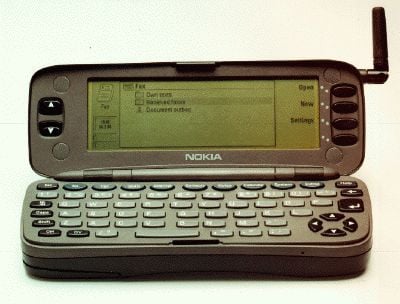 Nokia's 9000 Communicator launched in June 1996
Psion's riposte to Microsoft was unveiled in the summer of 1997 – and the public debut of the 32-bit Epoc system begun by Myers three years earlier. (Series 5 devices didn't start to enter the shops until the autumn.)
The new machine received much praise; it was far superior to the Windows devices shown at Comdex. It required learning a new system, but at one level retained source compatibility with the BASIC-like language interpretor that thousands of programmers used to create programs for its predecessor - so it hit the ground running.
The sophistication and superiority of Epoc, compared to Windows CE, were evident to the pundits, who threw laurels at Psion's new machine. Psion users were used to a month on two AA batteries – and the Series 5 very nearly matched that. But it had striven to match the flexibility of paper (Psion had viewed Filofax users as their traditional competition) with a 32bit world. Pictures could be embedded in a diary entry, for example.
But that didn't help. The business press, obsessed by numbers, and largely chasing its own tail, had come to a different conclusion. Microsoft had become the most valuable company in the world in 1995, and pundits reckoned it usually only got things right third time. It was a deterministic analysis. At the very least Psion would be in for a long fight - was it a fight it could win?
Psion's founder and chairman astonished the executives in April 1998, when he appeared to have decided to throw in the towel.