Transport for London's Boris bikes will be available for tourists and other casual users from next week.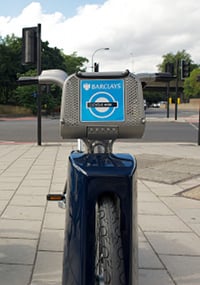 From next Friday you will be able to hire a Boris bike without being a registered member of the scheme. You'll need to swipe a Visa or Mastercard credit or debit card at any of the central London docking stations.
The bike hire scheme launched in July for registered members and access to casual users was meant to start four weeks later but this was delayed. TfL said it wanted to ensure systems, from Serco, were robust enough before opening them up to tourists.
TfL is installing extra anti-skimming hardware to all hire terminals to ensure security.
The scheme has 100,000 registered members who between them have managed 1.7m journeys. 95 per cent of all journeys are completed in less than 30 minutes meaning you only pay the access charge.
Figures obtained by the Standard found emergency services were called 13 times to Boris bike-related incidents in the first two months of the scheme. Which sounds pretty good compared to the 10 cyclists killed or injured on the capital's streets every day. ®