Affluent BlackBerry users can spread their smugness further with a pointless $600 (£379) app that shows they aren't just stupidly rich but also rich in stupidity.
Fortunatus, from developer Sander Stall, dazzles displays with an image of a diamond and offers an exclusive chat room to mingle with other plump-pocketed pea-brains.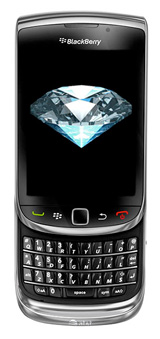 The app's description reads: "Do you have a lot of money? Than Fortunatus is something for you!"
Presented as badly as a 419 scam, we wonder how many people will fall for it.
It isn't a new concept, though. A couple years back, we reported a similar iPhone app appropriately named I am Rich that served the same purpose and also added an image of a diamond.
Apple removed I am Rich a day after its release but it was already purchased by SIX people.
Last year, I am Richer was released for the Android platform. The app cost $200, the maximum price set by Google. It's no longer there, just a number of knock-offs available at cut-down prices.
For $600 though, why not just superglue a real crystal to the front of your phone? Probably be enough cash left for a reasonable donation to charity too.
Alternatively, how about Rough Fortunatus, an inexpensive version of the same app that adds a pic of a rough diamond instead? There is also access to an exclusive chat room - all for the low cost of $20 (£13). Bling bling. ®