An Apple I sold yesterday for £133,250 while a three-rotor Enigma box went for £67,250.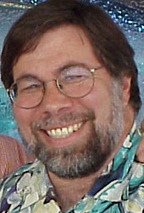 Woz: "Apple I was an important
step but I didn't realise it at the time."
The Apple I, number 82, came in its original box and was "in remarkably fresh condition".
It was bought by an Italian fanboi to add to his collection. He told reporters the machine would be restored and displayed.
Originally priced at $666.66, it was one of only 200 machines made by Steve Wozniak. Although the buyer was expected to do some assembly, no soldering was required.
Wozniak was at the auction and said the machine was an important step, although he didn't realise it at the time. The boxes were made and dispatched from Steve Jobs' parents garage.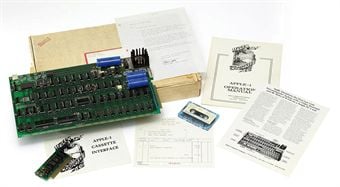 Also up for sale was an Enigma cipher machine from around 1939, which came complete with a modern power supply and has had some restoration. It was expected to sell for between £30,000 and £50,000, but bidding topped out at £67,250.
Most of the lots at the Christie's auction were rare manuscripts - including an almost complete collection of the Alan Turing papers, which was bid up to £240,000 but failed to meet the reserve price.
The Bletchley Park Trust, which hoped to buy the set, said it was pleased with the level of support seen for the campaign and Google's pledge of $100,000 towards the papers' possible purchase.
The Trust said it hoped the campaign would continue to gain momentum because the papers belong at Bletchley Park. ®