It's not just radio app developers, websites that dish the dirt on upcoming Apple products, and journalists who take the mikey out of Steve Jobs' diction that fall foul of the "magical and revolutionary" CEO. So do memento makers.
Take online retailer MIC Gadget, which had the temerity to tout an iPhone 4-sized Steve Jobs sculpture.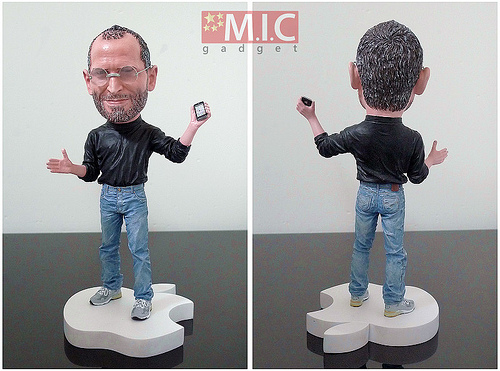 Kitted out in the presidential advisor's trademark grey sneaker, blue jeans and black turtleneck, the cranially exaggerated "action figure" - you can raise its wireframe specs - comes mounted on an Apple logo and with iPhone in hand. It's not poseable - like its namesake's decisions, this Steve Jobs is inflexible.
But there's the snag: trademark and copyright.
Jobs' look, it seems, is this in-the-public-eye CEO's personal property - at least as far as California law goes.
On hearing about the Mac maker's maquette, Apple's learned friends immediately sent MIC Gadget a cease and desist order.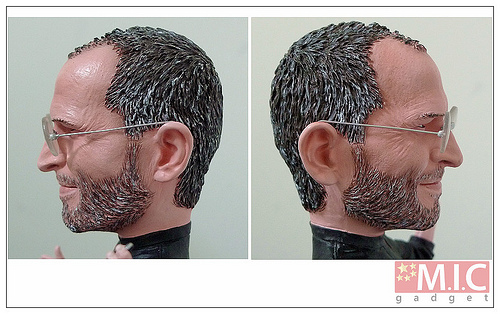 Any similarity to persons living or dead is entirely co... oh...
"Unauthorised use of a person's name and/or likeness constitutes a violation of California Civil Code Section 3344, which prohibits the use of any person's name, photograph or likeness in a product without that person's prior consent," said the lawyers, MIC's Chris Chang blogged this week.
That's particularly bad news for the 300 fanboys and/or Voodoo practitioners who ordered the initial batch of these $80 (£51) dolls.
Meanwhile, MIC Gadget is undoubtedly after something else to add to its array of merchandise. Suggestions in the comments, please. ®