Review Denon's replacement for the AVR-2310 has nothing to be ashamed of, turning in a decent spec for its really rather reasonable price. For a start there are six 3D compatible HDMI inputs, all of them capable of handling 3D-friendly 1.4 (I know, I know, it's explained in the intro).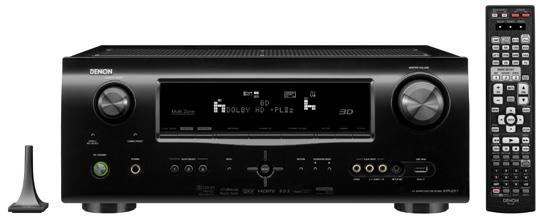 There's also an ARC (Audio Return Channel)-enabled HDMI output so there's no need for a separate audio upstream link from your HDMI 1.4-enabled TV. And at the front you can't underestimate the usefulness of an iPod-friendly USB input, especially since it's fast becoming de rigueur at this price point.
There's also provision for 7.1 surround sound with 135W on tap for each channel and Dolby Pro Logic IIz means you can add front height speakers in preference to surround-back channels. As you'd expect for the price, there's scaling of standard def sources to 1080p HD, eight-channel pre-outs and a range of analogue inputs.
A second HDMI output would have been nice, but it's not necessarily essential. The lack of networking/streaming capability is more of an issue however. The remote is big but that's no bad thing since the different sized luminous buttons and intelligent layout make it fairly easy to use.
The Audyssey microphone set-up proved to be straightforward and easy to run and set up the speakers accurately without any obvious need for a manual set-up.
Verdict
The sound is punchy and engaging, tracking movement with a good dispersal of surround sound effects. Stereo music is handled well too, with an enthusiastic, perhaps slightly bright delivery with a strong sense of timing. ®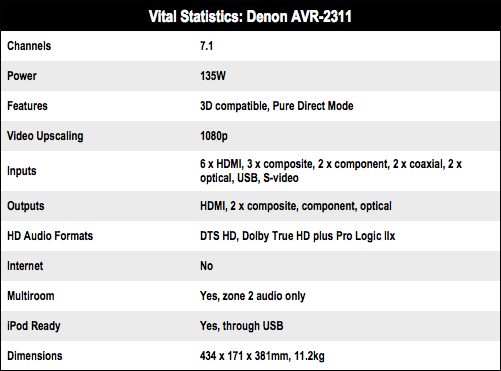 Next: Marantz SR5005

Denon AVR-2311
A good performer though its lack of networking ability counts against it.