Review The baby of the SR range is a brutal looking slab with distinctive Marantz curves which keeps most of its front-facing controls and connections hidden behind a large flap panel. These include iPod/iPhone connectivity with USB but no HDMI input up front, unlike all the other devices here.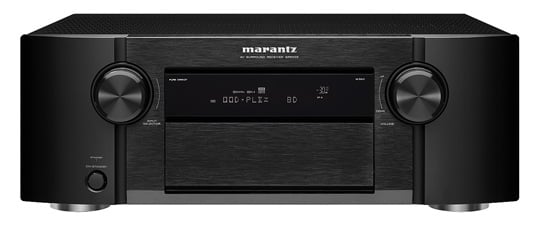 It has just four HDMI inputs round the back, which will probably be enough for most, yet it's typically two less than most others are offering at this price level. All of these HDMI ports can handle 3D material though and offer the latest specs like audio return channel and standby pass-through with a compatible TV.
The user interface is basic, but effective, superimposing blocky white text over the picture. The remote is, as usual, a maze of backlit buttons, but Marantz has made a good effort to differentiate them by size and ordered them into a neatly structured layout.
Speaker calibration comes courtesy of the Audyssey system, which offers optimisation for up to six listening positions – it's a bit more hassle to set up than say, the Yamaha or Pioneer systems, but it gives you more scope.
With no Ethernet or Wi-Fi there's no Internet connectivity or networking capability, which wouldn't have been a surprise at this cost last year, but with rivals offering it for an equivalent price or less, it's beginning to look like a serious omission.
The standard HD audio formats are aboard, as is Dolby Pro Logic IIx for extra height channels, should you require them.
Verdict
Sonically, it delivers a powerful, perhaps slightly raw performance with convincing delineation between the speakers. With music, however, it reveals that it's perhaps not quite as smooth a performance as you'll get from the likes of the Denon or the Onkyo, though some may prefer its vigour. ®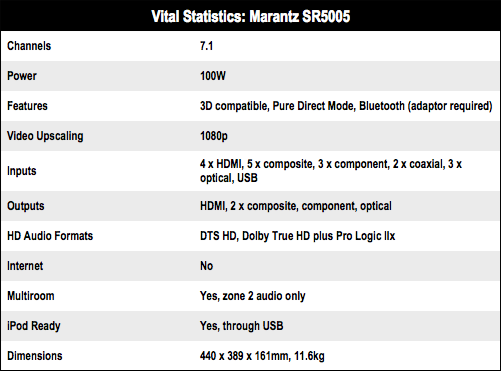 Next: Onkyo TX-NR708

Marantz SR5005
Less well spec'ed than some rivals, yet it delivers a powerful audio performance.