Review AV receivers by their nature tend to be lumpy boxes, but Pioneer's glossy black livery means the VSX-1020 is a bit better looking than most.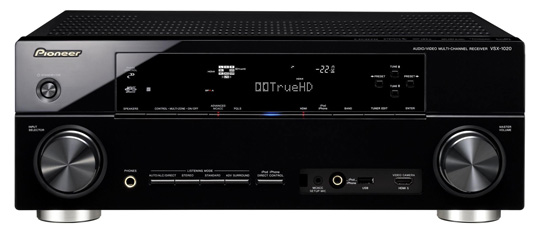 It has six HDMI inputs, including one on the front intended for video cameras, but strangely, despite the presence of HDMI 1.4 capability, there's no audio return channel or standby pass-through, which seems like a missed trick. Pioneer has created an app that allows you to control the VSX-1020 from your iPhone.
It looks good, and is handy if you've lost your remote (or simply prefer it to the busy handset packed with confusing, similarly sized buttons that it comes with). In common with other receivers in this range, you'll find support for HD audio formats like Dolby TrueHD and DTS-HD, as well as decoding for Dolby's Pro Logic IIz so you have the option of height channels.
It has an Ethernet port, which is becoming less unusual at this price level, which you can use to stream internet radio stations. It can also operate two zones, like the others here, though the second is audio only.
Pioneer's MCACC (Multi Channel Acoustic Calibration) system sets up the speakers from a single listening position and offers a more varied range of sounds to aid calibration than the Audyssey system.
Verdict
The sound tends towards the lean and precise – there are warmer interpreters, but if it's accuracy you're after, the Pioneer appears to deliver the goods. For music too it's on song with a particularly deft performance from the tightly controlled bass channel. ®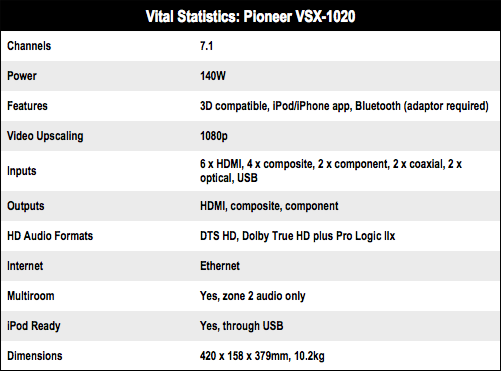 Next: Yamaha RX-V767

Pioneer VSX-1020
Delivers a cool and precise sound though it lacks a few of the very latest HDMI specs.