IBM gloats over HP, Oracle takeouts
Time for Blue Away reprise
---
Every quarter, a few weeks after IBM puts out its financial figures, it makes the rounds with the trade press to gloat over how many takeout deals it did, removing gear from its rivals and usually replacing it with System x or Power Systems iron but sometimes with a mainframe.
When Mark Loughridge, IBM's chief financial officer, went over the company's figures with Wall Street for the third quarter ended in September, he said that IBM had 250 competitive Unix takeouts in Q3, which generated approximately $225m in revenues for the company. But there is more business than just moving people from one Unix machine to another.
As it turns out, IBM migrated 286 customers to Power Systems machines, which run IBM's AIX variant of Unix, Red Hat and Novell Linux, and IBM's own OS/400-i proprietary operating system. Of those 286 customers, 182 were using Oracle (formerly Sun Microsystems) servers and 95 were using machines from Hewlett-Packard.
IBM also now says that more than 100 customers moved from Oracle or HP iron to System x x64-based servers or System z mainframes. That number also includes some HP and Oracle storage devices at customers that were just switching to IBM storage arrays; IBM did not say how many of these customers were just moving storage.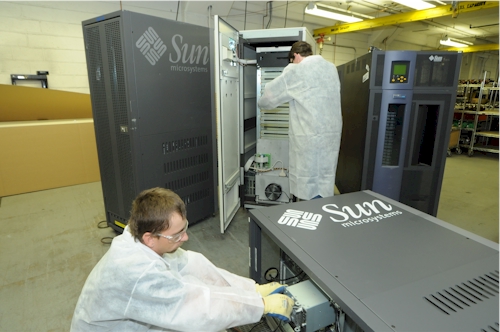 IBM techs at its Endicott, New York, facility taking apart a Sun server takeout
Over the course of nearly five years since starting its Migration Factory, IBM has moved over 3,000 customers to Power Systems iron, with more than 1,500 coming from former Sun and now Oracle shops and more than 1,000 coming from HP shops. Across all of its platforms, IBM has moved more than 4,500 customers off other company's iron to its own. At an average of around $1m a pop (which is what the deals have done over the five years), that is $4.5bn in incremental revenues for hardware, software services. And most importantly, it sets IBM up for future upgrades, which are much more lucrative because you never get as good a deal once you are in a fold as when you are joining it.
What IBM never says, of course, is how much business it is hemorrhaging, particularly from disgruntled mainframe or Power Systems shops that wanted cheaper x64 iron from HP, Dell, Fujitsu, and sometimes Oracle. For all we know, IBM is losing as much business as it is gaining, and considering the way the Unix and mainframe markets seem to have collapsed to a new and lower plateau in the wake of the Great Recession, it is fair to guess that IBM is losing more customers than it is gaining. That is certainly the case with the proprietary platform formerly known as the AS/400, which peaked at around 275,000 customers in 1998 and which has bled pretty steadily down to somewhere north of 100,000 customers.
Ditto for mainframes, which were used at around 10,000 shops after the Y2K turnover but which have maybe 6,000 to 7,000 unique customers these days. It used to be three times that number two decades ago. The Endicott, New York, factory that IBM is using to dump old Sun and HP gear and take it apart for scrap used to design entry and midrange mainframes and manufacture them - which it hasn't done for decades.
The wonder is why Oracle, HP, and Fujitsu don't hit back every time IBM opens its mouth with takeout figures of their own to show they are getting traction against Big Blue with their iron. Sun and HP used to show some sass and make this an interesting fight during the dot-com boom. They have no gumption any more. Larry Ellison could get fired up about something other than Leo Apotheker and actually start behaving like he needs to compete in the hardware racket with takeouts; Apotheker is a software guy that will have to be taught about hardware even more than Ellison. ®