This article is more than 1 year old
NetApp whips out a blade
Virtual Storage Appliance does a LeftHand
Know what a Virtual Storage Appliance (VSA) is? Sure, it's the HP LeftHand VSA that turns direct-attached server storage into a SAN. Did you know NetApp has one? Thought not. Well, it does.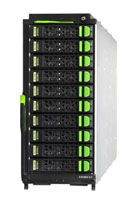 Big green storage machine
Fujitsu Technology Solutions has a PRIMERGY BX400 blade server, a so-called green data centre in a 6U box, with up to eight server and storage blades. The server blades are bulked up processing blades with dual, quad or hexacore Xeon 5600s or quad, hexa- or octal core Xeon 7500s.
The storage blades have disks or tapes on them but one variant, the SX960 S1, can come as a Virtual Storage Appliance, a storage area network (SAN) and filer inside the BX enclosure. It is the PRIMERGY VSX960, which contains a server, called a storage control blade, and an SX960 storage blade.
The storage control blade has an installed hypervisor – we don't know which one – and Data ONTAP-V software from NetApp. No, we've not heard of that either. The storage blade, an SX960 product, can have up to 10 2.5-inch SAS disk drives or SATA ones or SATA SSDs. It includes a RAID controller, offering levels 0, 1, 5 and 6, and a write-back cache. It has a PCIe X4 interface.
There is no option to have a Flash Cache in the storage control blade as far as we know. Fujitsu says: "The VSX storage solution supports iSCSI, CIFS and NFS protocols and is based on Data ONTAP-v features such as SnapShot, FlexVol, SnapRestore and FilerView."
This is the first known appearance of NetApp storage implemented as an embedded SAN or filer inside a blade server chassis, or indeed a server chassis.
NetApp and Fujitsu are cultivating a very close relationship, with NetApp now reselling Fujitsu's Quantum DXi-based deduplication product. Here we have a NetApp OEM-type product that, for example, NetApp partner IBM could conceivably sell.
The prospect is of remote and branch offices using such systems as front-end caches for data centre NetApp storage and replicating new data to the datacentre. Equally we could look at NetApp channel partners combining Data ONTAP-V with commodity storage to provide low-end SAN and shared filer storage to small and medium business, competing with DataCore's SANmelody. This could be NetApp's return to the SMB market which it more or less abandoned when the StoreVault operation was pulled back in-house.
The BX400 comes as a rackmount box or floor-standing unit, and is for small and medium businesses. It will be available worldwide in December and is, we're told, on Fujitsu Technology Solutions' price list. ®