Brits blow millions on over-priced ink
Branded printer cartridges, the new old enemy
British consumers are wasting £440m a year on branded printer cartridges rather than cheaper white label replacements.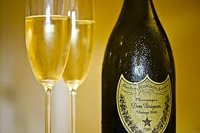 How to avoid that freshly ripped-off feeling...
A survey from YouGov found half of all households always buy brand name cartridges, which are typically a third more expensive than equivalents from the likes of WH Smith. Switching would save an average of £44 a year.
Researchers spoke to 2,000 households. The average UK home gets through 4.85 cartridges a year. Cartridges from HP, Canon or Lexmark cost an average of £30 each - so the annual bill is £145.50 - the same as a TV licence.
Only 18 per cent of respondents stick exclusively to cheaper cartridges.
The survey was carried out on behalf of Environmental Business Products, which also noted that non-branded cartridges are usually better for the environment because empty cartridges are collected, cleaned and refilled.
Printer ink is of course infamously expensive - remember the old survey which compared HP's cartridges with Dom Perignon vintage champagne? ®