Philips Fidelio DS8550 wireless iPad speaker
The new dock star gets the AirPlay treatment
Review Reg Hardware pronounced Philips' Fidelio DS9000 to be pick of the current crop of premium iPod docks, beating even the much-loved and well-reviewed B&W Zeppelin. Clearly, Philips is onto something here, because its Fidelio DS8550 is pretty bloody good too.
Now, I didn't review the DS9000 - m'colleague Alun Taylor had that privilege - but on the basis of the DS8550's output, the higher model number must be truly impressive indeed.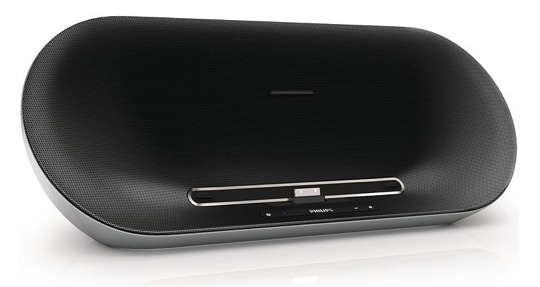 Philips' Fidelio DS8550: snazzy looking from the front
The DS8550 certainly presents a cracking sound, driven by a pair of 3in full-range speakers pumping out 30W between them. The bass output is given a boost with a reflex port to shoot it out the back and let it bounce back to the listener off a handy wall.
That said, the sound's not half bad if you move the DS8550 away from the sides of the room.
It struggles just a bit when you crank the volume right up, but with such a clear, warm and lively sound further down the dial, you probably won't want to push it that far anyway. The DS8550 is a good box for the bedroom or a small living room.
The secret, incidentally, is to treat the iDevice simply as a controller and music store. The Fidelio takes the digital data and runs it through its own digital-to-analogue converter (DAC) rather than rely on the one in the player. It does make a difference.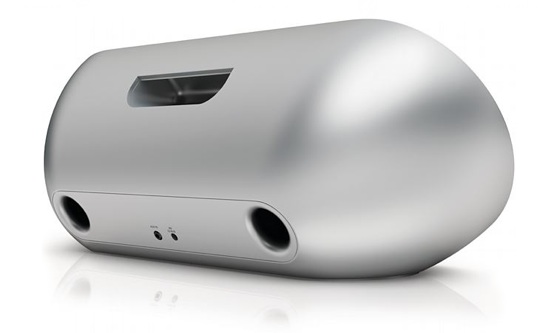 Reflex ports for boosted bass
A solid performer, then, but the DS8550's stand-out selling point is its ability to dock an iPad, though it's equally at home with an iPhone, an iPod - or, indeed, anything with a 3.5mm audio output, for which Philips provides a suitable cable to connect the player to the rear of the DS8550.