Philips Fidelio DS8550 wireless iPad speaker
The new dock star gets the AirPlay treatment
AirPlay wireless audio
And not just the cable-connected. This Fidelio incorporates a Bluetooth pick-up, allowing you to stream your songs over to the speaker.
With iOS 4.2, the DS8550 shows up the AirPlay menu of apps that have it, so clearly AirPlay isn't just about streaming over Wi-Fi, as its predecessor, AirTunes, was. Apple has wrapped in Bluetooth too.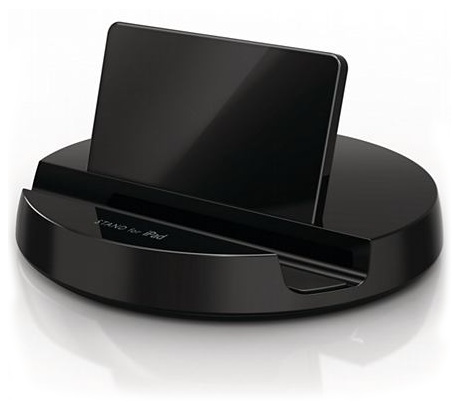 There's a separate stand for iPad video viewing
That said, you still have to pair it first - AirPlay isn't savvy enough to spot the Fidelio as an audio device and add it to the list of available speakers that's displayed when you tap the AirPlay icon. The smart move would have been to do so, only pairing - in the background; the Fidelio has a generic PIN - when the user selects it.
AirPlay knows about Bluetooth, but Bluetooth doesn't require AirPlay, so apps that don't yet know about the new streaming system will still work with the DS8550. I had a very pleasant half an hour blasting Rage HD's mutants and annoying my fellow office workers with loud shotgun blasts and cries coming from the other end of the room.
Wireless is handy. The DS8550 has its own, non-removable battery so you can carry it out into the garden and leave your iPad indoors. There's a hole in the speaker's silver-sprayed back that's a carry handle.