Plasma space-drive aces efficiency numbers: Set for ISS in 2014
Electro-rocket to open up Mars, the Belt, Jovian moons
---
Top boffins working at a NASA spinoff company are thrilled to announce that their plasma drive technology – potentially capable of revolutionising space travel beyond the Earth's atmosphere – has checked out A-OK in ground tests.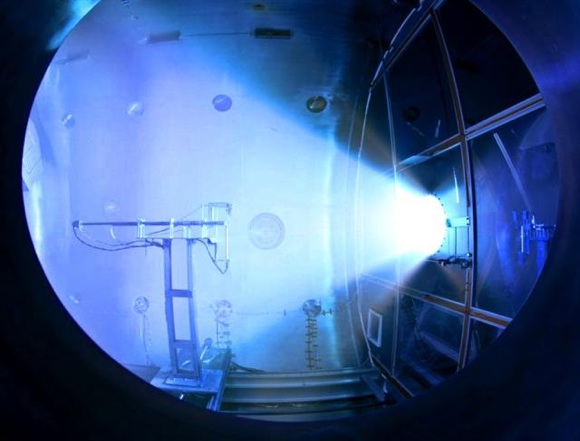 What interplanetary spaceship exhaust plumes really look like
According to the Ad Astra Rocket Company, building the Variable Specific Impulse Magnetoplasma Rocket (VASIMR), the firm's VX-200 prototype engine has just completed its latest round of trials with flying colours.
"Many of the flight applications at the heart of our business model – orbital debris removal, satellite servicing, cargo flights to the Moon and Mars, and ejecting fast probes to the outer solar system – have required that the propulsion system achieve 60 per cent system efficiency," explains Ad Astra's Dr Tim Glover.
"DC electrical power has to be converted to radiofrequency (RF) power, which is then absorbed by the plasma. The fraction of the RF power that is converted to thrust is called the "thruster efficiency". Now we have demonstrated in the lab the 70 per cent thruster efficiency we need to achieve the 60 per cent end-to-end system efficiency, at the required exhaust speed," adds the doc.
The VASIMR works by flinging reaction mass out of its exhaust, in a similar fashion to conventional chemical rockets used today. The difference is that the VASIMR blasts the gas out hugely more violently, hurling out its argon reaction mass as plasma hot as the interior of the Sun and moving at no less than 50 kilometres per second.
This means that a VASIMR plasma drive gets a lot more poke from a given mass of propellant than a relatively feeble chemical rocket possibly can, and thus that a VASIMR spacecraft can be accelerated to hugely greater velocities while still carrying decent amounts of payload. As an example, a practical VASIMR ship would be able to carry astronauts to Mars in just 39 days: a chemically-powered vessel, compelled to coast most of the way, would take six months.
The downsides of VASIMR are twofold. Firstly it requires a plentiful supply of electricity to convert argon into plasma and expel it with such terrific violence. Secondly the drive can handle only a relatively limited amount of power and fuel flow for a given mass of engine. While hugely efficient in terms of the results it gets for a given amount of fuel, a VASIMR able to lift itself off the ground is not feasible - the present small-car sized test engine can produce a maximum thrust of just 5.7 Newtons, barely enough to support half a kilogramme against Earth's gravity.