Jolted out of my savings inertia by the paltry 0.75 per cent I was getting on my Alliance and Leicester ISA, I decided to experiment with another tax efficient investment vehicle – gambling.
To be more accurate, the practice I am writing about is not strictly gambling but rather "sports arbitrage" - the technique of betting on all outcomes of a sporting event, when the different prices available from different bookmakers means this will result in a risk-free bet (I'll come back to the risk-freeness of all this shortly).
To get the idea, say Tennis Player 1 at Bookie 1 has the odds 2.05 and Tennis Player 2 at Bookie 2 has the odds 2.05. If you bet £500 at both bookies, you would win £25 regardless of which player was victorious – you've bet a total of £1000 and had £1025 returned (£500 x 2.05). Its a 2.5 per cent return on your investment, and the bonus is that gambling winnings are not taxable in the UK.
How it works
Here's some real world examples. In today's NFL match between the Dallas Cowboys and the New Orleans Saints, you you could bet on Dallas at odds of 2.02 with Pinnacle Sports and New Orleans with Betsson at 2.04. £50 on each side would guarantee a profit of £2 if the Saints win and £1 if Dallas win. £500 on Dallas and £495 on the Saints (rounded betting sums so as not to make the bookie suspicious) would guarantee £15 or £14.80 depending on the result. A 1.5 per cent return doesn't sound a lot, but this is in one day, and these opportunities happen every day.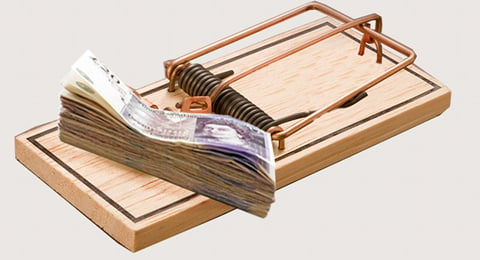 Making money with arbing requires patience, meticulous book-keeping, and practice
If it wouldn't make your bookie suspicious about your market knowledge you could have bet on today's Albanian soccer cup. Kastrioti Kruje was 2.16 with bookie SBO and Shkumbini was 2.00 with 12Bet. £200 and £215 respectively would net £17 or £15 depending on the winner.
Or you could look to this weekend's glamorous FA cup fixture of Torquay against Walsall. Ladbrokes has had Torquay at 2.25, Pinnacle Sports had Walsall at 1.877. £200 with Ladbrokes and £240 with Pinnacle will see a return of either £10 or £10.53.
There is homework to do of course. The above examples used Asian Handicap markets, which avoid draw results in soccer, and if you're in the US you'll be used to a different moneyline odds system. But the theory easily offers a better return than the current UK savings market.
The theory works, but what about the practice? To work as an investment strategy you need to open at least 20 bookmaker accounts, fund them, and also find lots of these arbitrage opportunities. These don't hang around for long, and though you can find them for yourself, the growth in online betting means there are online services that trawl the web and find them for you for a fee. These services tell you who to bet with, what to bet on, how much to bet, and can open bookmaker browser windows for you at the right event. I've used a couple of them in my experiment.
It's not for gamblers...
Rajeev Shah, founder of the arb service SportsArbitrageWorld, points out the opportunities for them are almost endless and always renewing themselves event after event. His view is that if you enjoy risk and like gambling, arbitrage is not for you.
The idea is to turn your capital over as often as you can, never tying it up for events too far in the future. Profits per event are usually between 1 per cent and 5 per cent of the total stake, and a fair monthly target is between an 8 per cent and 12 per cent return on your investment. Handling a £10,000 to £15,000 bankroll would probably require an hour or two each evening and some weekend activity to maximise returns.
The team at RebelBetting make between 9 per cent and 14 per cent every month, using their own software, and exploiting sub-2 per cent trades. The Yeovil/Southampton example came from their site Sports Arbitrage World costs £149 a month to join and RebelBetting is priced at €99. SAW scans more sporting events and bookmakers than RebelBetting.
So, if it's so simple, why don't more people do it? Making money by arbing requires patience, meticulous book-keeping, and putting in quite a few hours learning how to do it. You should practise with at least 100 low-stake arb bets before stepping up your limits.