Yes! It's the Reg Top 5 FUTURISTIC GUNS Thanksgiving Roundup!
Backpack raygun, portable artillery piece and MUCH MUCH MORE
---
The "Big Hurt" adjustable-velocity knockout rifle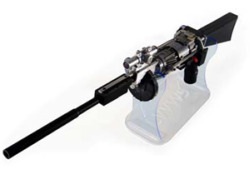 'Big Hurt' - or gentle slap, as you choose
The brainboxes at Lund Invention are probably rather better known for devising such works of genius as robotic doll babies which slurp juice, wet their nappies and utter troubling catchphrases ("baby go boom"). Nonetheless the company has also done its bit to keep the US military-industrial complex on top with the LVVWS.
The idea of the weapon is a simple one: you don't always want your bullets to come out of your gun at the same velocity. When shooting a "non-" or "less-lethal" plastic bullet, beanbag round etc you need low velocity at close range to avoid inadvertently killing your target: but to hit further off you need more poke even with a riot slug, and should you want to pierce armour or deal out death you need still more.
The LVVWS copes with this by using an explosive gas mixture in the chamber behind the projectile rather than conventional propellant powder. A laser rangefinder measures the distance to the target and the gun automatically injects the correct amount of gas in order to deliver a less-lethal slug at the correct velocity: alternatively the user can manually override to fire a lethal-force shot. Thus a soldier or plod can carry both lethal and non-lethal weapons in one, avoiding the need for multiple arms or a clumsy combo like the M-16 with underbarrel Taser.
To begin with inventor Bruce Lund intended to use a mixture of hydrogen and oxygen to propel slugs from the LVVWS, having successfully used such a system in a toy rocket, but hydrogen was seen as a logistic burden by the military. The latest versions of the gas-gun now use MAPP fuel canisters of the type employed in nail guns among other applications.
Lund calls the LVVWS the "Big Hurt... because it puts the hurt on the bad guys".
He adds that "with the development of the LVVWS, we answered our country's call to create a tool to keep our peacekeepers safe while deterring the behaviors of aggressive law breakers," though also admitting that "I have always loved things that go boom... They just make my little heart go pitter-pat".