Yes! It's the Reg Top 5 FUTURISTIC GUNS Thanksgiving Roundup!
Backpack raygun, portable artillery piece and MUCH MUCH MORE
---
The in-weapon spy recorder "Black Box": It's real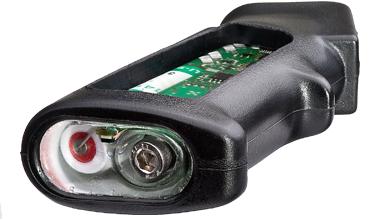 We would have believed it was an accident if you hadn't reloaded. Twice.
This gadget is designed to be installed inside a weapon, where it would run on a non-replaceable battery lasting ten years or 100,000 shots - covering the weapon handily between major overhauls.
The initial uses of the Black Box would, according to makers FN, be in logistics and maintenance. The in-gun shot counter would keep track of how many rounds were being fired, updating a future soldier's digital comm/puter system - Land Warrior or some similar rig - as it went, using some form of wearable networking.
Not only would the soldier or cop then know automatically how many shots he had fired without the need to keep count or look at his magazines and pouches, but so would his team leader - and higher commanders would be warned in advance if their people seemed likely to run out of ammo. Armourers would also find repairs and maintenance easier using the records held in the gun.
So far, so uncontroversial. But FN seem to hint at other uses to which the gizmo might be put - indeed the choice of name offers a broad hint that investigations following a shooting or a firefight might make use of the records held in weapons used.
Fans of Judge Dredd will recall that his personal sidearm, the Lawgiver pistol, had capabilities akin to this in some versions - perhaps going as far as the tagging of every round fired with the user's DNA signature. (Though in the movie, even this level of record-keeping didn't suffice to protect an innocent Dredd from being busted by his fellow judges for a crime he hadn't committed.)
The introduction of such systems might be used as much to keep tabs on cops or troops as to help them out with logistics and maintenance. And Black Box guvmint gunbutt spy modules required in every licensed weapon, doubtless remotely accessible by federal busybodies, would seem like a vaguely plausible bogeyman to disturb the sleep of many a righteous, free, gun-toting American.
Even more chillingly for those who see personal weapons as a guarantee of freedom from government oppression, FN speak of the Black Box as a "weapon manager", hinting that feds, military superiors etc might even be able to disable a gun remotely.