Yes! It's the Reg Top 5 FUTURISTIC GUNS Thanksgiving Roundup!
Backpack raygun, portable artillery piece and MUCH MUCH MORE
---
The Judge Dredd shoots-round-corners man portable artillery piece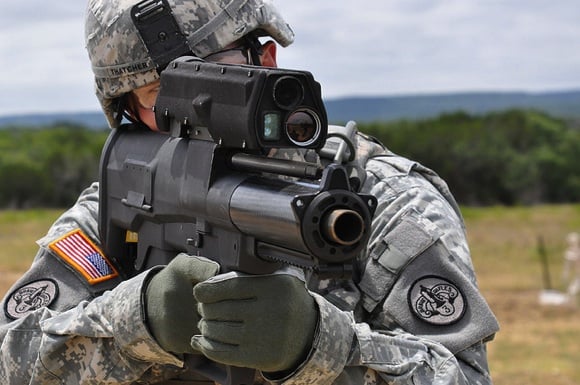 Airburst - it's not just for the artillery any more
No article of this kind would be complete without a mention for the XM-25, one of the maddest and most futuristic guns on the block, which can actually hit an enemy who is hiding around a corner or behind an impenetrable wall.
How? Well, as regular readers will know, the XM-25 doesn't shoot ordinary bullets but rather 25mm miniature airburst artillery shells, with very precise time fuses set at the moment of firing by the gun's computer.
The cunning smartgun also has an accurate ranging laser, allowing its user to ping, say, a corner around which an enemy lurks and get the exact range. He can then thumb a button, specifying that his shells should explode just a little further than that from his gun muzzle, and fire away.
His smartshells will then fly just past the corner and explode in midair, peppering the hidden enemy with shrapnel as they do so. The same capability can be used to make them detonate above the head of an enemy in a trench or behind a wall, or to fill a targeted room or bunker with deadly frag from rounds exploding in its centre having flown in through a window or insufficiently-tough wall or door.
The other main special sauce of the XM-25 is that its projectiles' large size allows a range of specialist ammo to be created. Apart from basic high-explosive frag rounds, the US Army plans to offer a Dredd-like array of alternative XM-25 smartshells. There will be a shaped armour penetrator, a flash-bang stun warhead and a door-breacher.
There's also to be an "anti personnel" round: in the US military that normally means an artillery shell which throws a cloud of smaller projectiles - either metal balls ("canister") or finned darts ("flechette" or "beehive"). The XM-25 version could function like a shotgun, simply throwing the shot or flechettes out of the end of the barrel for maximum closeup firepower, or it could use the gun's airburst capability and deliver a spread of projectiles at long range.
The XM-25's rifled barrel and sophisticated sight (which has many of the attributes of One Shot) make it accurate to long ranges, too, which ought to mean popularity in Afghanistan. Ordinary Western soldiers normally carry NATO-5.56mm rifles which were never intended to be used much beyond say 300m, and often find themselves outranged by Taliban ambushers using such weapons as the PK Soviet-pattern machine gun firing powerful 7.62x54mm5 cartridges.
The XM-25 will get its chance, anyway: the gun is real and going into combat now. The five prototype weapons developed by the US Army's Program Executive Office - Soldier have been supplied to the 101st Airborne, and enough are being manufactured to equip one soldier from each rifle squad in an airmobile6 battalion with an XM-25. If the 101st like the weapon, it will doubtless be issued more widely.
So there you have it: an adjustable-velocity knockout gun, a Black Box spy-in-the-butt weapon recorder, an actual real world backpack raygun, miracle computer sniper-scopes and target-seeking bullets - and a Judge Dredd portable artillery piece which hits round corners. And that's only our top five.
Plenty of iconic stuff there for future American history, movies etc to chew on, we'd suggest. For now this is the Reg futuristic gun tech desk signing off and wishing everyone a happy post-Thanksgiving recovery weekend. ®
Bootnotes
1An early light machine gun or squad automatic weapon, employed by the US forces from WWI to the Korean War.
2Though we are well aware from previous correspondence here on the Reg guns desk that there is a vociferous lobby of diehards in the States who will only cease clinging to their trusty .45s when their fingers have ceased being merely cold and dead and are actually a-moulderin' in their graves.
3Kills have been made at much greater distances: Corporal-of-Horse Craig Harrison of the Household Cavalry is generally credited as the current combat record-holder, having picked off two Taliban machine gunners and then hit and destroyed their weapon from no less than 2,474m in 2009. However he himself says that conditions were "perfect", and even so he had to fire several previous shots before zeroing in on his targets.
4Though not always. The previous combat sniping record-holder prior to Harrison (see note above), Corporal Rob Furlong of Princess Patricia's Canadian Light Infantry, was using a .50 MacMillan Tac-50 bolt action rifle when he nailed a Taliban fighter at 2,430m. Before .50 rifles became available (the .50 round was originally intended for use in heavy machine guns), the legendary sniper Carlos Hathcock of the US Marines used a specially-modded Browning machine gun fitted with a telescopic sight to make long-range kills in Vietnam.
5Different from ordinary 7.62x39mm Soviet ammo as used in the AK47 assault rifle and its many descendants: this is an intermediate-power round not unlike NATO 5.56mm despite the different calibre. Soviet 7.62x54mm as used in the PK is a longer full- or high-power cartridge holding more powder (the number after the x is the cartridge length, the one before is the calibre or diameter of the bullet itself), which naturally throws its projectile faster and further.
6The 101st's title might suggest to some readers that it is a parachute unit like the 82nd Airborne. It used to be, but nowadays it's a helicopter-borne (Airmobile/Air-Assault) formation.