This article is more than 1 year old
Need for Speed: Hot Pursuit
Streets ahead?
Review Pigs, gavvers, filth, babylon, bizzies. The sheer wealth of familiar pejoratives suggests few people admire the police. Even fewer, I suspect, admire traffic cops. But despite an incongruous contempt for those who uphold the law, I'm sure many people share my fantasy of a night spent behind the wheel of a lumbering Volvo Estate, bringing justice to the streets of our inner-city Asbo-farms.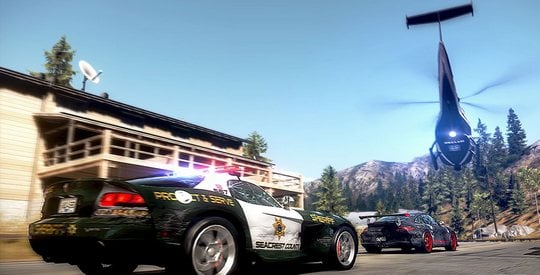 Cop a load of this
When I heard the premise for Need for Speed: Hot Pursuit, that fantasy flashed before me. I saw my sweat-soaked leather driving glove jerk towards the siren. I heard my shout over the radio, "White Golf GTI, Three IC1 males, aged 15 - 20!" And I saw the deathly terror on the driver's face as my Volvo nudged him and his glue-sniffing twoccers into the path of the oncoming lorry.
OK, so maybe some fantasies aren't for sharing. And maybe I've seen one too many late-night traffic cop shows. But this is why I play videogames: to do the unthinkable. And while there's not a single Volvo or twoccer in its vast fictional American state of Seacrest, EA's reboot of the Hot Pursuit brand still manages to satiate the repressed sociopathic law enforcer within me.
Nowhere is that fantasy better gratified than in the eight-player online eponymous Hot Pursuit mode. Split into two teams of street racers and traffic cops, the objectives are simple. Street racers need to complete a point-to-point race, traffic cops need to damage their cars sufficiently to stop them. But these simple objectives belie a profundity of balanced gameplay and tactical nuance that make for one of the most addictive race modes ever created.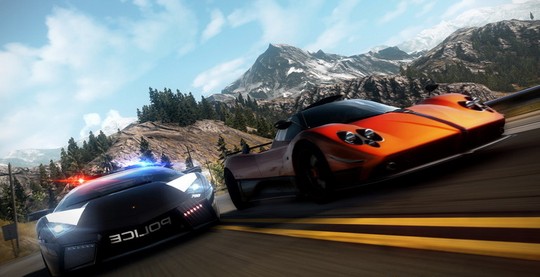 This little piggy went ner-ner-ner-ner all the way home
It's easy to see where that addiction stems from. The collaboration between DICE, the creators of the Battlefield series and veteran racers Criterion injects the lexicon of multiplayer FPSes into the turbo-charged vernacular of racing.