This article is more than 1 year old
Need for Speed: Hot Pursuit
Streets ahead?
Road worthy
For all DICE's influence, peer under the bonnet and you'll find Hot Pursuit's engine is resolutely a Criterion racer. The graphics, the crashes, the damage decals, the nitro boost rewards for driving dangerously - all are instantly familiar to Burnout players. But Hot Pursuit's cars feel weightier than their Burnout counterparts. And although firmly an arcade racer, there's an appreciable difference in handling among the large roster of sports, performance and supercars.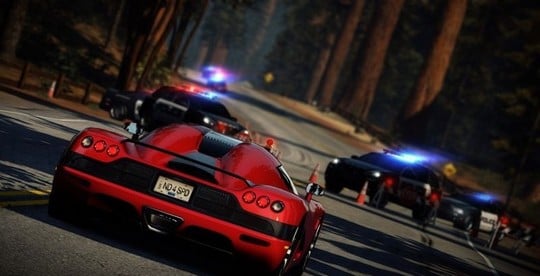 Blockheads put a block ahead
Bolstering Hot Pursuit's online offering - which also includes standard eight-player races and a one-on-one variant of the Hot Pursuit mode – there's a substantial single-player career mode. A map of Seacrest is used as a hub from which to select individual events. Completing events earns you Bounty, unlocks new cars and events, and increases your status: promotion through the ranks as a traffic cop, or notoriety as an illegal street racer.
It's a solid, polished, but ultimately unremarkable structure, one a little sterile and staccato in comparison to Burnout Paradise's free-roaming principles. And while early events describe Hot Pursuit's gameplay in easily digestible vignettes, the continued restriction of abilities in later levels - such as night pursuits with only stingers and helicopters - feels contrived to maintain variation.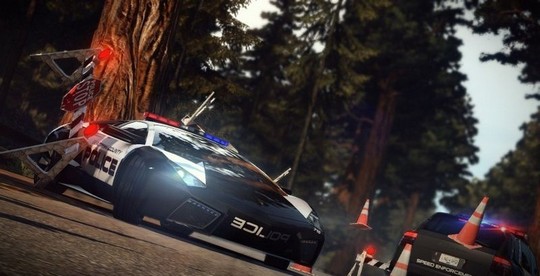 What's in the trunk?
Verdict
Hot Pursuit is a solid game, with real invention, but feels just the first step in re-establishing a franchise. The career mode entertains for a few hours, but the structure lacks personality, and play soon becomes repetitive. And despite the amazingly addictive Hot Pursuit mode, the online content is light in comparison to the Triple-A shooters that inspire it.
On this evidence, Hot Pursuit has an extremely bright future – one which will benefit by drawing further inspiration from online FPSes. But in the meantime, if you're reading, EA, any chance you could set the obligatory DLC content in Toxteth or Moss Side? ®
More Games Reviews

Assassin's Creed:
Brotherhood
Super
Meat Boy
Call of Duty:
Black Ops
007
Blood Stone

Need for Speed: Hot Pursuit
A solid racer that might be lost among the crowd if not for one gaming's greatest online driving modes. Available on Xbox 360 (tested) and PS3.