This article is more than 1 year old
Pure Twilight DAB/FM radio and dawn simulator
Moodlight serenade
Review Here in Blighty we're rather proud of our broadcasting heritage, the BBC was the first to offer national radio after all, and remains the world's largest public service broadcaster too. Yet, while the US managed colour TV in the 1950s, the UK had to wait until 1960s. Half a century on, DAB radio pioneer Pure is keen to ensure we'll not be left behind this time with its latest innovation, colour radio.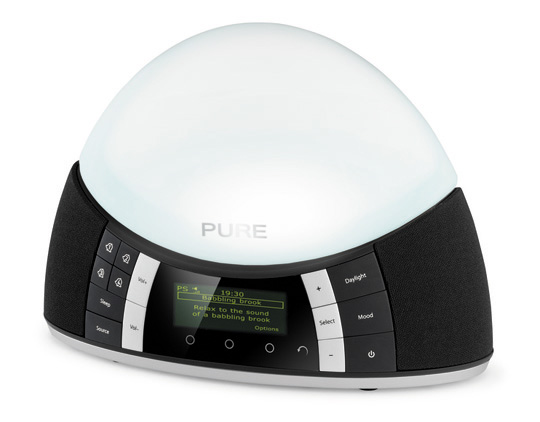 Radio Ga Ga: Pure's Twilight features built-in lullabies
You might think the Pure Twilight is just a bedside, stereo DAB/FM radio with a gibbous moon-shaped lamp atop a black and silver body, but how wrong you'd be, sort of. The lamp has some clever features, using six high power LEDs to simulate daylight, as well as mood light that changes colour and varies in intensity.
The idea is that at bedtime you'll have your mood lighting active and if you select sleep mode, this will gently fade over a specified period of time. In the morning, the daylight option will steadily brighten for a period before alarm time. Oh, and to make things even more interesting, the lamp is touch sensitive. Let's skip the light fandango for now though.
Alas, £130 won't buy you any Wi-Fi connectivity, although Pure is eager to promote Internet services, with other radios in its range tapping into the Pure Lounge portal. A rather neat Pure Lounge iPod app has just appeared too, to enable access to Lounge content including digital radio and podcast favourites. The company even has its own music store called FlowSongs that enables song purchases from within certain radios.
No doubt a Wi-Fi enabled version will appear if the Twilight proves to be a leading light but for now, its just a twin tuner with an 3.5mm aux input round the back and one for headphones too. There's also a mini USB port for firmware upgrades and a standard USB connector that Pure describes as the PowerPort. The idea being you can charge up devices plugged in here, but no other functionality.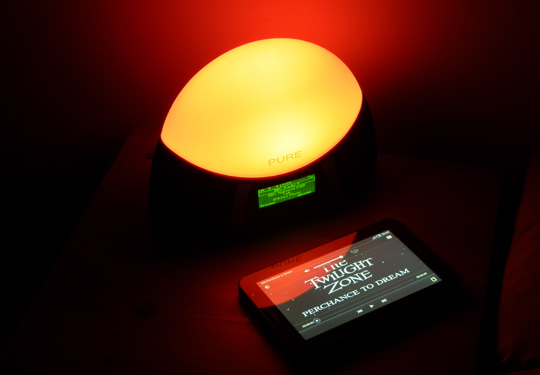 Use the Twilight to charge up a tablet and listen to the audio through its aux input
It's not a bad idea though, as the Twilight ends up reducing the mains socket count, as you won't need one for a bedside lamp or your phone/tablet/PMP charger. With a broader charging scope than just offering iPod connectivity, it invites you to plug in other devices to the aux input whilst charging at the same time. I tried it with a Samsung Galaxy Tab, playing movies through the Twilight, which was a great improvement over the Android fondle slab's feeble speakers.