WTF is... up with e-book pricing?
Price rises coming
---
Where's our price war?
Back in August, Reg Hardware compared book prices and found that the launch of Kindle had failed to ignite a price war. Fast forward to late October, and blog Gone Digital repeated the comparison, revealing that prices at Waterstones had gone up, rather than down, though WH Smith was still fairly competitive with Amazon.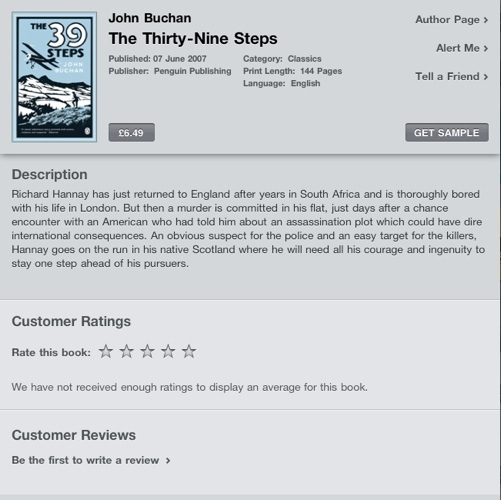 Classic mistake: agency pricing makes publishers' out-of-copyright editions expensive.
The same work could well be free and DRM-less from Gutenberg.org
However, book pricing has recently become more complex with the introduction of 'agency pricing' for e-books, a move that Amazon believes is bad for the consumer.
Agency pricing is very similar to the old Net Book Agreement, where publishers set the price and retailers didn't discount it. Those that did would no longer be supplied by that publisher. The NBA collapsed in 1997, when it was ruled to be against consumers' best interests.
That's certainly true, the NBA was anti-competitive, preventing booksellers to beat rivals by cutting prices. However, while it was argued that the abolition of the NBA would allow bookshops to flourish, in fact hundreds of them subseqently went out of business.
Agency pricing introduces the same notion of price maintenance as the NBA, with the same goal of levelling the e-book playing field. It has already increased the prices of some books. Amazon states "This price was set by the publisher" on agency titles, resulting in some recent e-books titles now costing more than the hardback edition, which, because there's no longer an NBA, bookstores remain free to discount.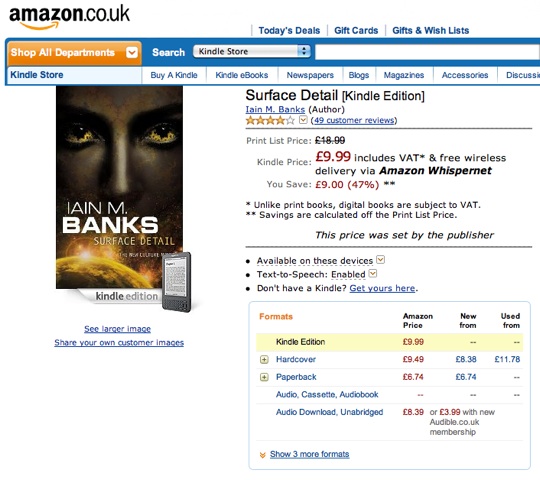 Iain M Banks' Surface Detail on the Kindle Store
That situation is, of course, made worse by e-books attracting VAT. For example, Iain M Banks' novel Surface Detail is £9.49 in hardback, but £9.99 - £8.50 plus 17.5 per cent VAT - for Kindle, and will likely cost £10.20 in the new year, unless publishers absorb the incoming 20 per cent VAT rise, or the government takes advantage of a 2009 EU rule change that would allow e-books to be sold at the lower VAT rate of five per cent.