Researcher warns of iPhone phishing peril
Blame Mobile Safari's scrolling address bar
---
Apple's iOS is vulnerable to web attacks that allow malicious websites to masquerade as trusted pages maintained by banks, stores, and other sensitive organizations, a researcher said on Monday.
The weakness stems from the ability of web developers to display pages on iPhones that push the address bar out of view, researcher Nitesh Dhanjani wrote in a blog post that demonstrates the problem. It shows a version of mobile Safari visiting a page on Dhanjani's website that looks remarkably similar to the log-in page of BankofAmerica.com, including what appears to be the Secure Sockets Layer imprimatur certifying the page is authentic.
"The cause of this vulnerability is a design decision by Apple: the Safari browser on the iPhone allows websites to scroll the real address bar out of view," Dhanjani wrote in an email to The Reg. "This can allow a malicious website to display a fake address bar (such as in my example) thus tricking the user to thinking they are browsing a legitimate site when they are not."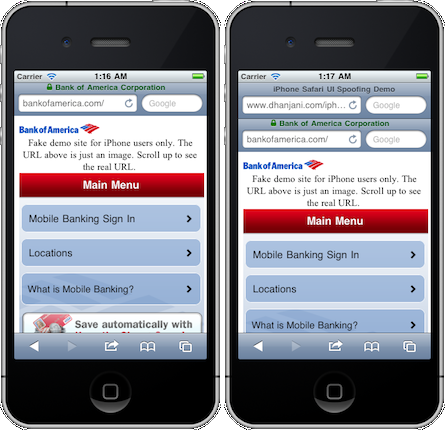 A spoofed Bank of America page. The one on the right shows the real URL bar once the user scrolls up.
Dhanjani said he alerted members of Apple's security team to the threat and they indicated they weren't likely to make changes anytime soon.
"I did contact Apple about this issue and they let me know they are aware of the implications but do not know when and how they will address the issue," he wrote.
Part of the problem, he said, appears to stem from the small amount of real estate available on smartphone screens. As a result, the iPhone's address bar can be pushed out of the way by popups and other graphics. That creates a ready-made way for malicious websites to obfuscate their address and also makes it hard for BofA customers to follow the bank's safety advice to pay close attention to the browser's address bar for verification users are at the correct site.
The problem Dhanjani outlines affects iDevices running the default version of the Safari browser, but the researcher warned similar issues could affect custom apps from third parties as well. That's because most apps are full screen and create an incentive for designers to keep users immersed in their apps, instead of requiring them to rely on Safari to render web content.
"Since apps on both the iPhone and iPad are full-screen,  developers of these apps usually build a browser into their app (for example, the Twitter app on the iPhone and iPad)," Dhanjani wrote. "Designers and developers of these apps need to do a better job of making sure they are displaying the actual URL of the site they are rendering in their application (for example, the Twitter app on the iPad renders it's own browser when you click on a link instead of sending the user to Safari)."
Dhanjani's warning comes as an increasing number of people use smartphones for online banking. That has prompted predictions that it's only a matter of time until phishing attacks are tailored to the platform. ®