This article is more than 1 year old
How I saved the Macintosh
After getting the idea from a Clamshell Orgy
Memoirs of a Salesman Today, Apple seems unstoppable - its new products dominate their markets or create entirely new ones. But there was a time, 20 years ago, when Apple seemed to have lost everything.
In 1984 I was caught in the middle of all this: I was a sales rep for ComputerLand Los Angeles; the top Macintosh salesman at the largest computer store in the world in Apple's largest metropolitan market.
In the mid-1980s, Apple released the products that defined its distinctive market niche in graphics and print production. Twenty-five years later, the Macintosh is still the mainstay of graphics studios, But it is hard to imagine the modest beginnings of the Macintosh desktop publishing tools. Today's designers would barely recognize the early Mac DTP systems. Nor would they understand the excitement over computerized typesetting and graphics.
In the early 1980s, things were changing in design. Designers had always used a wide array of complex tools to produce handmade artwork with machine precision. Work that would take hours by hand could be done in seconds on a computer. When the first Mac shipped in 1984, designers immediately saw the potential in early products like MacPaint.
In 1985 Apple released the LaserWriter with Adobe PostScript, and Aldus released Pagemaker. This combination of software and hardware was customized for professional typesetting and graphics. The enthusiasm of designers is obvious in this Apple promotional video released that year.
This video spoke to designers in their language. Every graphic artist wanted a Mac and a LaserWriter. But the cost was staggering. A basic Mac with Pagemaker would cost around $3500. The LaserWriter cost $6995 - adjusted for inflation, that is about $21,000 in today's dollars.
My corporate customers started buying Mac DTP systems to replace typesetting systems that cost hundreds of thousands of dollars. But few individual designers could afford them. I still remember one designer breaking down into tears when told that her $10,000 credit application was declined.
But many designers could afford a Mac without the printer. Graphics "service bureaus" would print your designs on a LaserWriter for 25 cents a page, $2.50 for ultra-high resolution film on a Linotronic imagesetter. Now the print quality of a major publishing house was within the price range of almost any designer.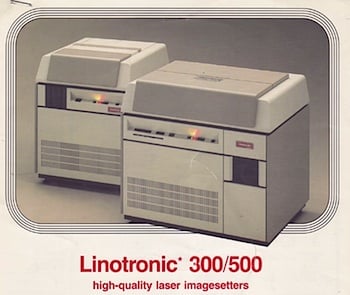 Apple even had an advantage it didn't realize. Apple hardware engineers were notorious for sneaking in hidden features that nobody noticed - or approved of. One of those features was AppleTalk networking.
The LaserWriter was designed to work over a simple network using telephone cables. An entire office could share a LaserWriter, spreading its cost over a whole office full of Macs. Hewlett-Packard's first LaserJet printers, meanwhile, could only attach to one computer. The networked LaserJets weren't introduced until later.