This article is more than 1 year old
Tron Evolution
Glowing nowhere?
Review The original movie Tron was something of an irony. Considered by many as a landmark in computer animated cinema, the movie actually owed more to traditional animation techniques than CGI.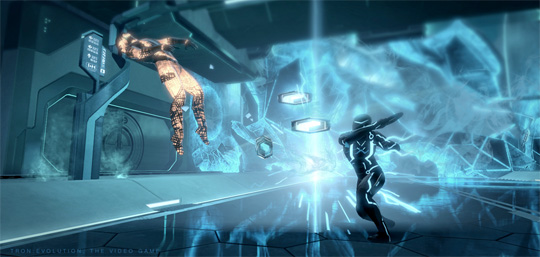 I'll punch your lights out
As the technology to mix computer animation and live action didn't exist in the early 1980s, of Tron's 96-minute running time only 15 minutes contain computer-generated imagery. Those scenes - mostly featuring light-cycles, tanks and ships - had to be intercut with filmed characters. The film's overall aesthetic - the keystone to Tron's enduring status as cult classic – was achieved using photographic and rotoscopic techniques - not to mention a few hundred-thousand man-hours in a Taiwanese animation sweatshop.
It's fitting, then, that at its core Tron Evolution - Disney Interactive's tie-in to the forthcoming movie sequel Tron Legacy - contains just 15 minutes of gameplay. And while those 15 minutes comprise solid, enjoyable elements, their continuous recycling fails to sustain play through the five-hour long single-player campaign and online multiplayer modes.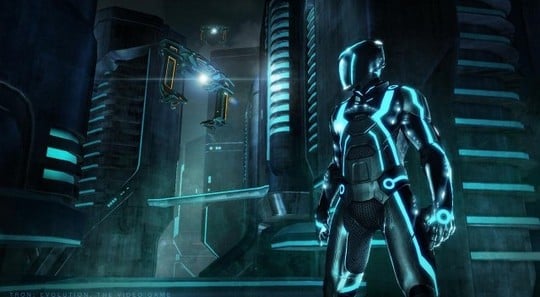 Tanks for the memory
Acting as a backstory, Tron Evolution bridges the 20 years between movies by introducing developments to the sub-silicon realm of The Grid. A mysterious virus threatens the fragile harmony between Basics, The Grid's original denizens, and ISOs, a new race of rogue, sentient programs. In a plot essentially about Nazism, 'The Creator' Flynn's original avatar, CLU, has become corrupt, and seeks to exploit prevailing xenophobia among Basics by using the virus as a pretext for the genocidal derezzing – Tron-speak for killing - of ISOs.