British computer pioneer Wilkes reaches EOL
/etc/init.d/halt for time sharing pioneer
---
Maurice Wilkes, British computer pioneer, has died at the age of 96. Wilkes was head of Cambridge University's computer lab from 1945, when it was known as the Mathematical Laboratory, to his retirement 1980. In recent years he published his memoirs and consulted for DEC and the Oracle-Olivetti lab in Cambridge.
In 1949, Wilkes designed the Edsac (Electronic Delay Storage Automatic Calculator) computer that inspired J Lyons' Leo, one of the first commercial computers in operation. The Edsac was powered by 3,000 vacuum tubes and could carry out 650 instructions per second.
"We had to fight a number of major battles in order to get radio engineering along with the rapidly developing subject of electronics ⎯ dubbed in the IEE light current electrical engineering ⎯ properly recognised as an activity in its own right," Wilkes reminisced (pdf) six years ago. "I remember that we had some difficulty in organising a conference because the power engineers' ways of doing things were not our ways. A minor source of irritation was that all IEE published papers were expected to start with a lengthy statement of earlier practice, something difficult to do when there was no earlier practice."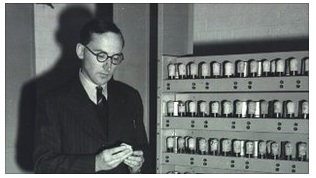 Maurice Wilkes with Edsac
In later years, after what Wilkes called the "heroic age" (or what Verity Stob called the "Robbie the Robot era") of computing was over, research focused on higher level programming languages, time sharing, computer memory (virtual and cache) and networking topologies. Thanks to academic work in Manchester and Cambridge, Britain had a lead in all these areas, but lost out to marketing-led American companies such as IBM.
After his retirement, Wilkes was a consultant to DEC and the Olivetti Research Lab. He returned to the University of Cambridge in 2002.
You can find a list of his papers here, and two recent(-ish) talks at his Labs home page here. And if you're a colleague or alumni, share your memories with us here. ®