This article is more than 1 year old
Apple Mac Mini with Snow Leopard Server
The Xserve alternative?
Review With Apple's Xserve now discontinued, the only two Mac servers available are the Mini and the Mac Pro Server. The Mac Mini is Apple's lowest-cost computer yet in its more expensive server incarnation it dispenses with the optical drive of its desktop sibling, instead opting for a second 2.5in hard disk.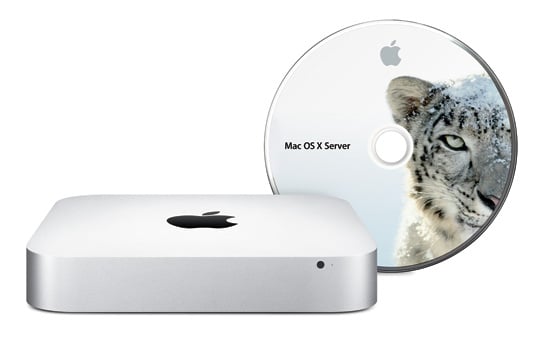 Apple's Mac Mini Server: no optical drive, but two 2.5in hard drives inside instead
The server price hike has it in third place behind the basic MacBook as cheapest Mac. Yet the Mac Mini server squeezes two 7200RPM 500GB hard disks into its tiny case, along with a 2.66GHz Core 2 Duo. In comparison, that means the CPU is about 11 per cent quicker than the desktop's 2.4GHz chip, and the disks are faster.
The machine comes pre-installed with Mac OS X Server 10.6.3 on one of its hard drives, while the other is left empty – so if you want to mirror them, you'll have to reformat and reinstal. However, it is possible to do this without reinstallation if you can boot from the System DVD and use the Disk Utility. However, there's no optical drive, so you'll need to resort to the Mac's drive sharing option or use an external USB DVD drive. Alternatively, start up the Mac Mini in Target Disk mode, hook it up to another Mac using Firewire and configure it that way.
Evidently, the Mini isn't your typical server box. There's no internal expansion except to replace its pair of 2GB DIMMs with up to 8GB. It has a single Gigabit Ethernet port, plus 802.11n wireless and Bluetooth, so it's not going to be a network gateway, either. What it is ideal for is as a small workgroup server or even rackmounting, as shown with its predecessor here. At 197mm square but just 36mm high, the box is tiny, inconspicuous and virtually silent in operation – it puts out just 14 dBA and uses 85W of power.
Without any more configuration than adding a few user accounts, it offers centralised storage, Time Machine backup facilities and workgroup email. Even a set of default shared volumes are set up automatically, with the Time Machine backup volume placed on the empty drive. A Firewire 800 port allows reasonably quick external storage to be attached, which can be added to by daisychaining or with a Firewire hub – either way, it's certainly more flexible than using eSata.

No eSata, but Firewire 800, USB 2.0 and SD card slot options
In its Snow Leopard guise, OS X Server is only available as an unlimited client licences version, at an official price of £408 – so the £220 price premium of the Mini Server over the slower £600 base model is not too bad. Previously, the unlimited-clients edition of OS X Server was twice the price of the ten-client version, so Server 10.6 is considerably better value. It also adds a number of new features, including a 64-bit kernel and the new Address Book Server. As for what functions you might want to serve, well, OS X Server has most bases covered there.