This article is more than 1 year old
Arcam rCube portable iPod speaker system
Top of the docks
Review Following in the footsteps of Bowers & Wilkins, Cambridge-based Arcam is the latest top-end British hi-fi maker to start a dalliance with the dark forces of the iPod, iPad and iPhone by producing a one-box music system to complement Apple's handheld devices.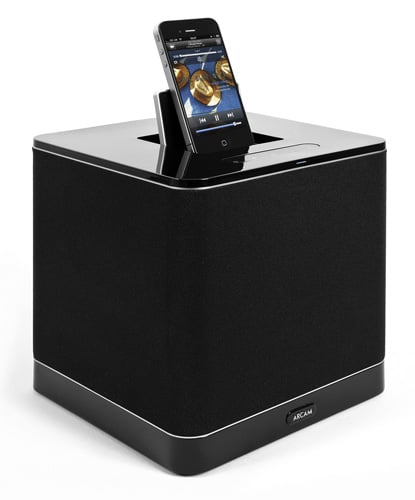 Boom box: Arcam's rCube
At 200mm square, the rCube is small for a premium speaker system and takes up a lot less space than the likes of the B&W Zeppelin or Philips DS9000 Fidelio, giving it instant appeal to those short on space. Small it maybe but, at 5kg, light it is not. That probably has something to do with the cast aluminium base and cabinet made from 12mm thick MDF. Arcam say the structure and build apes that of a high-end speaker cabinet and, having seem an rCube in pieces, I'd agree.
Externally, the rCube is as black as night with a deep gloss finish on the top and bottom, with cloth covered vertical sides. The word from Arcam is that it may consider other colours in due course, but for the moment you can only have it in black.
Thoughtful design exterior touches including a removable 30-pin dock on a ribbon connector. So if it breaks, replacing it is a five minute DIY job. There's enough space around the dock connector for your iPhone to be used with its cover or bumpers in-situ and a concealed carry-handle beneath the damped dock cover.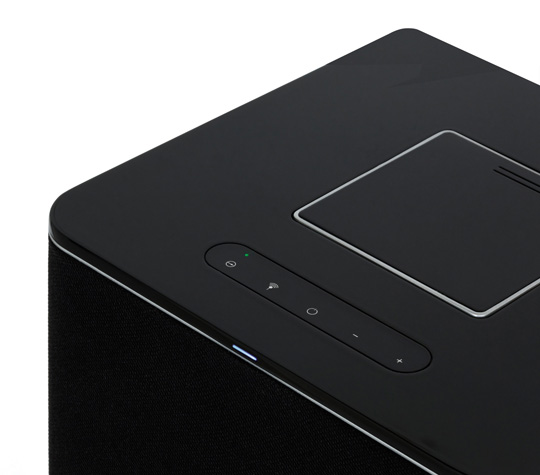 A touch of class
The touch-sensitive controls on the top of the unit have been kept to a minimum and simply let you turn the unit on, adjust the volume and activate the wireless streamer, about which more below. Everything else is managed from a rather work-a-day, yet full-function remote.