This article is more than 1 year old
Arcam rCube portable iPod speaker system
Top of the docks
Buried in the aluminium base is a user replaceable rechargeable battery, so you can take the rCube anywhere you fancy and enjoy between two and eight hours of mains-free music, depending on volume. Recharging takes about one hour.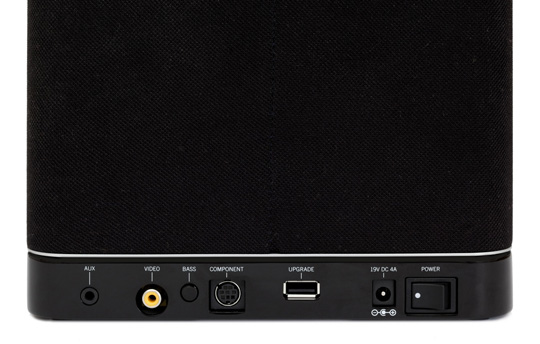 A bass boost option exists to suit music where these things matter most
Inside the cabinet are three amplifiers driving four speakers, two set into each side of the cabinet. That's a combination rated at 90W RMS – 35W from each mid-range driver and 10W from each tweeter – and is enough to fill even a large room with sound.
The rCube's output has not been achieved at the expense of quality. No matter what I played on it – and I listened to everything from Nine Inch Nails to Carole King, and Tangerine Dream to Tannhauser – the reproduction was always a bright, clear, focused, taught, powerful and superbly detailed sound, that never failed to impress.
The eagle-eyed amongst you may have noticed the Bass button around the back. These boosters sometimes make everything sound just a little phony and muddy, but not in this case. Press it and the already impressive amount of bass acquires just that extra bit a depth and power, without getting woolly. Yes it's invasive electronic voodoo, but it's voodoo that works and pays dividends when listening to bass-heavy musical genres.