Dell rings up spin-screen Duo at £449
Netbook-cum-tablet priced up
Dell hasn't yet said how much it'll ask for its netbook-cum-tablet Inspiron Duo over here, but it's offering Arqiva employees them for £449 a pop, we hear.
Arqiva is the company that owns the UK's terrestrial TV and radio transmitter network. Employees who take up Dell on its offer will get a JBL docking station freebie.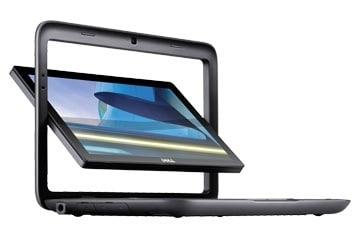 According to the Arqiva Dell landing page, the Duo will be available on 7 December.
The Duo went on sale in the US last week, but is expected to arrive here tomorrow. Perhaps, the date on the Arqiva site indicates a slight delay on Dell's part.
The Duo's specs include a 1.5GHz dual-core Intel Atom N550 processor; 2GB of 800MHz DDR 3 memory; 250-320GB of hard drive space, depending on configuration; a 10.1in, 1366 x 768 capacitive touchscreen; and Windows 7 Home Premium. ®
Thanks to Mike for the tip