This article is more than 1 year old
97% of INTERNET NOW FULL UP, warn IPv4 shepherd boys
'Honest, the wolf's chewing my trouser leg now' says Cerf
Less than three per cent of IPv4 address space is still to be allocated, after two huge chunks were given to American and European ISPs.
ARIN and RIPE, which administer IP addresses on either side of the Atlantic, each received two /8 address blocks in November. A fifth block went to their African equivalent.
The moves leave only seven /8 blocks - 2.7 per cent of the total of 256 - unallocated by the Internet Assigned Numbers Authority (IANA).
For years, warnings have been issued that the internet in its current incarnation is running out of space for new devices. Now that reality is imminent.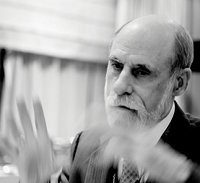 'Only thees much space left' - Vint Cerf
In mid-November, Vint Cerf, a key figure in the development of ARPANET, the forerunner to the internet, said: "There's no question we're going to be out of address space by springtime of 2011."
Even that estimate could now appear optimistic.
Trefor Davies, CTO of business ISP Timico said: "I will need to revise my exhaustion date but February is either looking good or too late."
It remains to be seen what effect the exhaustion of IPv4 will have. ISPs vary wildly in their readiness for the successor protocol, IPv6, which provides many orders of magnitude more address space.
For internet users, any effects are not likely to be felt until IPv6-only services start appearing. If ISPs haven't upgraded their networks by then, those parts of the internet will be inaccessible to their customers. ®