LG kicks off work on quantum dot TV
OLED? Old hat. QLED is where it's at
LG is to co-operate in the development of quantum dot-derived LED TV displays capable of generating "brighter, richer colours" while consuming a fraction of the energy of today's LEDs.
The South Korean giant said it will work with QD Vision, the US developer of the electroluminescent quantum dot LED - aka QLEDs. The two will try to figure out how to build QD's sub-pixels into a large, flat-panel display matrix.
Quantum dots are semiconductor materials in which the electrons and positive holes are energetically confined in three spatial dimensions. They exist in nanocrystal structures made using a chemical deposition processes.

A QD Vision QLED array
It's a tricky notion to get your head around unless you're a quantum mechanics boffin, but the upshot is that you apply a voltage to the things and they emit light. Crucially, the voltage is very low, and the light is of a very tight frequency band, resulting in very specific, accurate colours.
Combine electroluminescent quantum dot and a control mechanism and you have a QLED. QD has red, green, blue and yellow sub-pixel QLEDs that can be combined into a single, colour pixel.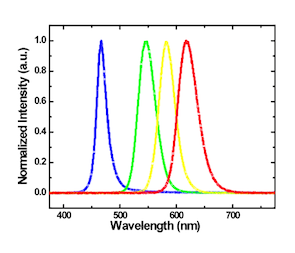 Accurate colours? Oh yes
Like OLEDs, QLEDs don't require a backlight, but being inorganic they are more stable than OLED pixels. QLED colours are 30-40 per cent more intense than OLEDs can produce, says QD. Since they generate light of a specific colour, they don't require filters to be placed in front of them, which, like the absence of a backlight, will allow very thin screens to be made from QLEDs. And cheaper ones too.
Indeed, QD reckons its QLEDs will not only be printable, but also able to be laid down on flexible substrates.
So, a future comprising bright, bendy low-energy screens beckons? That's the theory, and LG's money and display manufacturing skills will be used to put it to the test. ®