Facebook figures suggest WinPho 7 user base still small
OS' users not social - or just not many in number?
Some interesting statistical jiggery-pokery hints that Windows Phone 7 isn't proving popular.
Microsoft makes a big deal out of the new smartphone OS' social networking support, so website WMPoweruser visited All Facebook to try and glean some usage data.
Following the sites example and checking out the Windows Phone monthly active user numbers - presumably the integrated Facebook access - we found that the OS peaked last week with 126,018 users.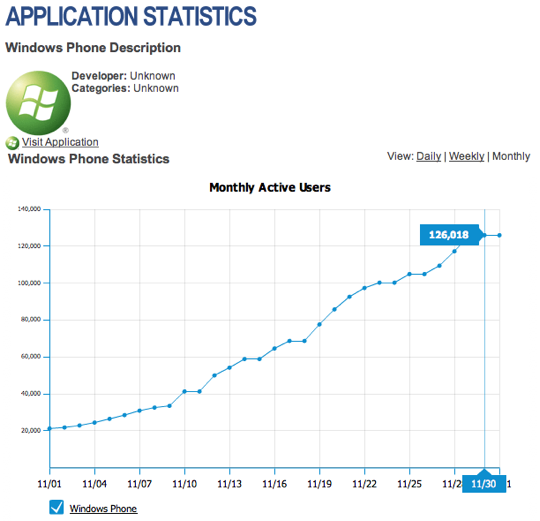 Source: All Facebook
That's a lot less than the equivalent figures for Android (17,196,545), iOS (53,311,153) and BlackBerry (25,145,284).
It's still well below even HP's Palm WebOS (765,712), though the WebOS numbers have plateaued and may even be shrinking slowly. At least WinPho's user base is still growing.
Of course, not every WinPho 7 owner will be connecting to Facebook, either using the integrated client or the free app that's available in the marketplace - 92,859 active users, according to All Facebook - but given the way Microsoft is marketing the OS, it's a good bet that many if not most do.
It's also worth pointing out that without comparable figures for Android, iOS etc, it's impossible to say whether the WinPho 7 growth curve is impressive or not. Active usage has gone up almost sixfold in the last month, from 21,226 to 126,016.
All Facebook is not allied to the social networking site, so we've no indication as to how accurate it's numbers are, but there's no reason to assume they're well off the mark either.
So, either WinPho 7 users are not a very social lot - or there aren't that many of them out there. Neither alternative is good news for Microsoft. ®