Yahoo! wonks! brace! for! lay-offs!
Embattled punctuationtastic empire still has 14k bods
Job cuts at Yahoo! are reportedly coming before the year is out, with about 650 lay-offs at the Carol Bartz-run firm expected to kick off on 13 December.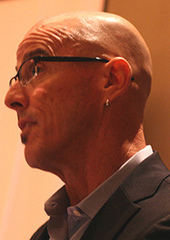 Who me? It's mostly Blake Irving's
staff facing the chop, say sources
All Things Digital, which cited sources familiar with the situation, said Yahoo! is to axe about three per cent of its 14,000-strong workforce.
It's understood that many of the lay-offs will affect staff working under the web portal's chief product officer Blake Irving.
All Things Dig added that some of the job cuts could lead to parts of the Yahoo! biz being outsourced.
Speculative reports have suggested that Yahoo!'s latest cull could be as high as 20 per cent of the workforce, but the struggling web outfit has declined to comment. ®