This article is more than 1 year old
US politician: 'homosexual agenda' behind TSA groin grope
Pleasure from 'your submission'
A US politician says he's uncovered the real reason for the recently introduced groin-grabbing TSA patdowns. He claims they're part of the dreaded, morals-sapping, country-destroying homosexual agenda.
"The next TSA official that gives you an 'enhanced pat down' could be a practicing homosexual secretly getting pleasure from your submission," Loudoun County, Virginia, supervisor Eugene Delgaudio wrote in an email to his followers in the conservative organization Public Advocate, of which he is president.
The target of Delgaudio's wrath is the TSA's non-discrimination policy, which he identifies as "The federal employee's version of the Gay Bill of Special Rights."
In Delgaudio's righteous opinion, this policy means that the next TSA employee to touch your junk might be ... gasp! ... gay.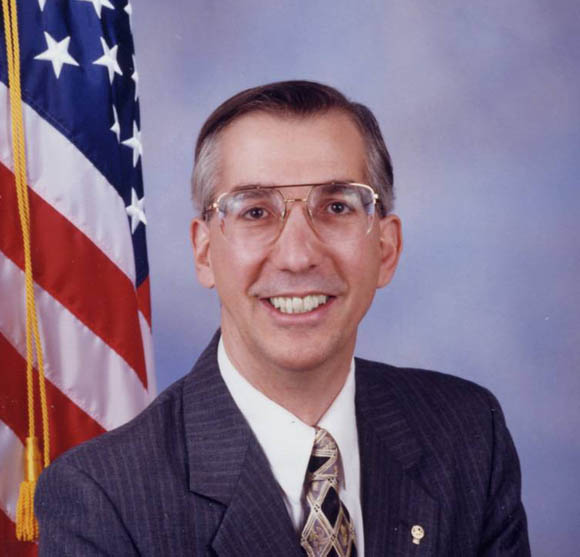 Eugene Delgaudio, defender of everything that is upright — well maybe not everything...
Delgaudio's email was obtained by WUSA9.com, which also reports that although the hugely hetero hero makes $40,000 a year as a county supervisor, he pulls in $150,000 as president of an organization whose website proudly proclaims its mission to include "defending the rights of fathers, mothers and children to live their lives free from government intrusions."
Unless, of course, those fathers, mothers, and children happen to be gay.
Earlier this year, as pointed out by WTOP.com, Delgaudio promoted a petition in opposition to the US Student Non-Discrimination Act, which he said would "turn America's schools into indoctrination centers ... its classrooms into social laboratories ... its playgrounds into homosexual breeding grounds."
Delgaudio, ever the witty wordsmith, renamed the anti-discrimination bill the "Homosexual Classrooms Act".
In a recent fundraising appeal, the muy macho master of moralistic manliness warned: "Wedding-gown clad men smooching before some left-wing clergy or state official is just the beginning," and that "You'll see men hand-in-hand skipping down to adoption centers to 'pick out' a little boy for themselves."
Or, for that matter, airports will be chockablock with buff, pierced leathermen crowded into TSA perv-scan booths, drooling over grainy images of forbidden fruits.
Not to put too fine a point on it, but mayhap Supervisor Delgaudio doth protesteth too much. ®