This article is more than 1 year old
Western Digital WD TV Live Hub
Torrent on TV
Review Western Digital's WD TV has always been one of the better streaming media players. It has an attractive graphical interface, supports an extensive range of audio and video file formats, and – with no internal hard disk – proved much cheaper than disk-based rivals such as the AppleTV.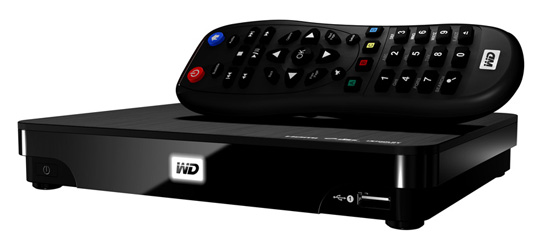 Local store: Western Digital's WD TV Live Hub
Ironically, though, just as Apple has removed the hard disk from the AppleTV and cuts its price in half, Western Digital has decided to shove a big fat hard disk into the WD TV and jack the price up by almost £100.
The revised WD TV Live Hub costs £200 with a built-in 1TB hard disk. That's the only capacity available, but the older, diskless WD TV Live is still on sale, if you'd prefer that. The inclusion of the hard disk means that the Live Hub is a bit larger than its predecessors, but it's still small and neat enough to sit comfortably next to your TV in your front room. The hard disk makes a quiet, low hum when running, but you have to lean quite close to hear it, as it's certainly not loud enough to be intrusive.
Unlike previous models, the Live Hub supports HDMI 1.4 rather than 1.3. However, like its predecessors, it delivers a 1080p output, as well as both component and composite video options. There's an S/PDIF for digital audio output, and two USB 2.0 ports for adding extra storage or transferring files onto the internal hard disk. A gigabit Ethernet port provides network connectivity but, disappointingly, Wi-Fi is only available as an optional extra. There are no cables included at all, so you'll need to provide those yourself.

Port options include HDMI 1.4 support
I was a little disappointed to see that the documentation and initial setup process weren't as straightforward and easy as on previous models. The printed QuickStart guide does little more than tell you to download a second manual and a piece of software called the Discovery Tool from WD's web site. The Discovery Tool locates the drive on your network and allows you to map a drive letter onto it – but only if you've got a PC, as it doesn't run on Macs.