This article is more than 1 year old
Mass mind control artist condemns El Reg to obscurity
Brainwashed from US by 'big fat idiot'
Mass mind control artist Rush Limbaugh has convinced millions of brainwashed Americans that The Register is an "obscure UK tech site."
In the US, Limbaugh is famous for using the country's highest-rated radio program to control millions of small American minds over more than two decades. He's also famous for being "a big fat idiot."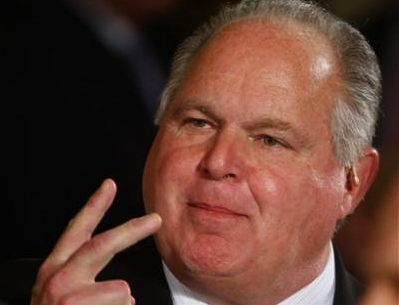 Rush to The Reg
This week, Limbaugh told his epic army of submissives that it was he who first told the world WikiLeaks was using US-based Amazon servers to host its trove of confidential US government documents. He also pointed out that The Register told the world before he did. But at the same time, he convinced the country's unfree thinkers that this makes perfect sense.
"Now, who was the first to [point out that Amazon was hosting Wikileaks]?" Rush said, according to his website. "It was us! It was us! We were the first to report that WikiLeaks was being hosted on Amazon's servers, and we cited that obscure UK tech site, The Register.
"Now, [Fox News] gives the Wall Street Journal the credit for it, but we were the first to point it out. I guarantee you that once Amazon started hearing from people, 'You're hosting the WikiLeaks guy?' [snaps fingers]. They got rid of 'em. EIB gets results."
EIB is what Limbaugh calls his radio show. It stands for "Excellence in Broadcasting."
The Register denies that it's an obscure UK tech site. Each month, we're read by more than 5.2 million unique geniuses, and about two thirds of those are outside the UK. But we realize that Limbaugh's control over the country's minds is such that a vast portion of the US population will forever think of us an un-American gear-head rag read by no one. ®