NFC mobe-touchpay trial does end run round handset makers
You won't build a paycard in? We'll slip one in anyway
A bank, a network operator and a transport company will be deploying a payment infrastructure based on Near Field Communications (NFC) technology in mobile phones, but without inviting handset manufacturers to the party.
StarHub will be running the invitation-only trial of NFC payments in Singapore with DBS Bank, featuring ticketing from EZ-Link, as reported by NRC World. But the most interesting aspect of the trial is the way it cuts out the handset manufacturers, using Gemalto's N-Flex technology to slide between the SIM and the phone and provide an NFC antenna – until the manufacturers can be brought in to line.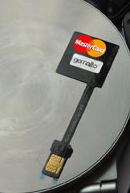 Handset manufacturers are generally considered essential to Near Field Communications as the manufacturers have to embed the antenna into their handsets, and, ideally, cede control of that communications link to the network operator. The network operator – in that model – would then use the SIM as the secure component for storing financial details. That's supposed to happen over the Single Wire Protocol (SWP). But handset manufacturers have been very slow to make SWP-compatible handsets, preferring to provide their own secure component and thus maintain control of the customer. N-Flex gets round that problem by providing its own antenna and sliding between the SIM and the phone.
The contact plate slips between the SIM and the phone, and communicates with the SIM over SWP, all other communication being passed on to the handset. A flat then wraps around the battery, and the antenna tucks between the battery and the back plate of the phone.
If the handset supports SWP, then the N-Flex is redundant and is simply removed, but using this technique can enable NFC payments on any handset that doesn't have too much metal in the back plate. The fitting procedure is better shown here, where you can see how the antenna wraps around the battery: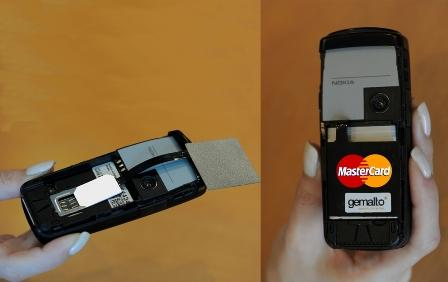 The technique is not entirely new: Thailand's TrueMove did something similar in 2008, though that was an extension to the SIM rather than an SWP-compatible intercession between the SIM and the handset.
The application can reside on the smartphone with a pretty interface, or it can be text-menu-based and run on the SIM, if the handset is less intelligent. In that mode it will run on any GSM handset.
Bodging the technology together in this way is all very well for trials, but it's hard to imagine anyone rolling out a mass product based on N-Flex. More likely it's a threat to the manufacturers, pointing out that if they don't implement SWP-compatible NFC technology, then the network operators might just do it without them. ®