Hanging out of windows, waving transmitters madly about
The Solwise kit consisted of a couple EnGenius 8610-S bridges, which are surprisingly easy to configure as long as one follows the manual step-by-step. I set the ISP-issued router to DHCP from 192.168.1.50 upwards, and gave each bridge a static IP address as I don't like searching for my networking kit. I got them working across my shed, and then set out to connect them from somewhat further apart.
There followed much mucking about flashing car lights in the darkness and trying to establish for certain that a connection was possible at any height. Solwise reckons you should get a helium balloon and play out the string to work out the right altitude, but I can only assume they've never tried it on a Scottish coast where balloon strings are horizontal things.
Eventually we gave up trying to work it out: I took a bearing from Google Maps, mounted one end on my house and then hung out of an upstairs window at Claire's waving the other end around until we got a connection.

Line of sight, but only to the very far-sighted
That connection lasted a few seconds, but I saved the log to remind me it could be done - worthwhile as over the next few months I repeatedly had cause to doubt the connection had ever existed.
It was mid-summer by the time I had a hundred quid's worth of ladders, and fittings to attach the transmitter to the outside of Claire's ancient house. Fitting it was tough: drilling into stone from the top of a ladder is, frankly, scary, but the expanding bolts held well and the Solwise kit comes with everything you need including a Power Over Ethernet injector and even a jubilee clip for attaching the antenna to the included pole.
What it doesn't come with is instructions on what to do when the whole thing fails, and the signal you recorded four months earlier just isn't there. Despite carefully measuring angles and setting inclinations there wasn't a trace of the signal, a result that was not only disappointing, but also embarrassing, given the holes I'd drilled into Claire's 100-year-old farmhouse.
I tried mounting the antenna at my end higher and higher, reaching as far up the gable end as my ladder would go. Then, in a fit of frustration, I taped the antenna to the top of the roof ladder as I couldn't get any higher than that, and it worked: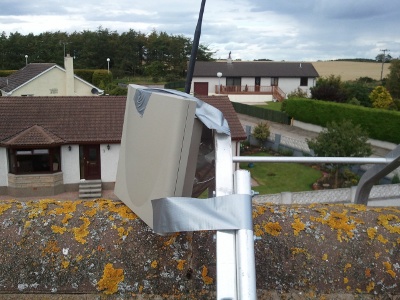 Not a long-term solution, good as gaffer tape is
That still left the problem of how to mount the thing. My house has serious tiles and I didn't fancy drilling into them to mount anything, but by bolting some fence posts together I was able to create a sort of horse which sits astride the roof but not attached to it. After some initial testing I added a couple of shelving brackets, which doubled my connection speed at the cost of some stability: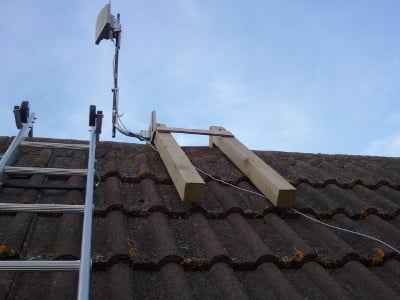 It's just as unstable as it looks, click on the image for an in-context version
Now I have a connection to Claire's house. The precise speed is hard to judge, but it's about 300Kb/sec, and surprisingly stable with only two serious outages, both caused by Claire accidentally unplugging the router when switching off her computer.
So I'm not a not-spot any more, though I'm still a long way off the 2Mb/sec that the government reckons is a minimum. Increasing the speed probably means increasing the height of the roof-top antenna, which will be a technical challenge. The antennas have line of sight, but barely, and radio signals suffer from interference within the Fresnel zone - a cigar-shaped zone between the antennas that (in my installation, according to the calculator on the Solwise website) stretches about 7 metres down from the line of sight, and well into the village that lies between our houses.
Making a bigger "horse" is probably unwise, so something attached to the side of the house will be necessary, but that means a cherry-picker, which is prohibitively expensive, and might well be beyond my limited construction abilities.
Maybe inexpensive satellite technology, such as Avanti will soon offer, will make that link redundant, although the latency problem remains. Maybe white space will get opened up and I'll be able to link to Claire's house at 400MHz, which would go straight through the village below, but that won't happen any day soon. The diary of a not-spot is far from complete, but at least it's turned into nearly not, rather than a not nearly, until Claire goes goes off in a strop, that is. ®
* All the names are changed, except for Claire's - I still have to live here.
Similar topics