Ten... dirt-cheap voice phones
Mobiles for the money-less
Product Round-up World+Dog may be falling in love with smartphones faster than a large lass on a date with George Clooney, but there is still a place for the cheap and cheerful voice-centric handset.
To start with, basic phones shorn of the extravagances of 3G, GPS, Wi-Fi, football pitch-sized hi-res screens and always-on connectivity can often run for weeks rather than hours on a single charge of their battery.
Secondly, their very affordability makes them ideal for anyone whose travels take them off the beaten track: they bring fewer worries about loss or damage. And yelling into a phone that costs more than the locals earn in six months is never a clever thing to do on either a moral or practical level.
Before we start, I'll come clean and admit that the prices listed don't include the often mandatory £10 of airtime, but even if you never use it, a spare Sim with a few quid on it is always handy to have.
So what can you get for my self-imposed limit of 30 quid? Quite a lot, and in a plethora of styles. And if three Charles Darwins is too much, there are a couple of handsets that can be picked up for less than an Elizabeth Fry.



Alcatel OT-222

Flip phones seem to be something of a dying breed, but if it's a form-factor that appeals to you, the OT-222 is a solid super-budget choice. An extremely simple handset all you get beyond the telephonic essentials is an FM radio. It's a pretty robust device despite a slight wobble in the main hinge which frankly was nothing more than I expected at this price point. It didn't worsen during my test despite some deliberate abuse. The screen is more pleasant to look at than the spec suggests, and the UI, while not fancy, is perfectly logical and efficient. The keypad appears a bit odd in the photos but it's actually rather nice to use and has a funky blue back-light that matches the LED event indicator on the lid. Call quality was impressive too, with plenty of volume on tap. The battery is small but that helps keep the weight and size down and with such a small screen you can still go a week between charges.

Network GSM/GPRS 900/1800
Screen 1.5in, 128 x 128
Battery 650mAh, 7 hours talk,
400 hours standby

Reg Rating 70%
Price £7
More Info Orange




Alcatel OT-800

The Alcatel 800 is the perfect phone for compulsive messengers on a very tight budget. A well made handset, it looks like a Blackberry Bold on cursory inspection though the keyboard doesn't quite match that of the Rim product. For the price you get an RDS FM tuner, a 2Mp camera and A2DP Bluetooth. The handset comes with a 2GB Micro SD card but 4GB is the largest the 800 will support. There's no earphone socket of any sort other than the mini USB port, which is an issue if you want to trade up from the bundled headset. The IMAP4/POP3 e-mail client supports SSL and TLS security so the vast majority of e-mail accounts can be accommodated, and the built-in IM client supports most common protocols. The keyboard has lots of handy shortcuts and a shake of the handset will skip through your music library. T-Mobile will sell you a branded version called the Vairy Text for £25.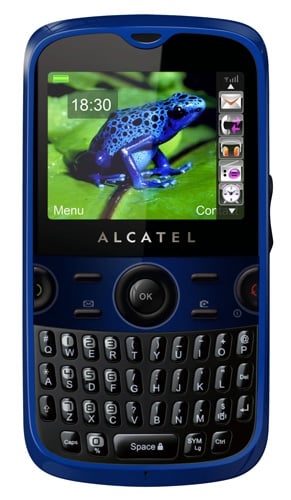 Alcatel-800
Network GSM/Edge 850/1800/1900
Screen 2.2in, 240 x 320
Battery 850mAh, 9 hours talk,
450 hours standby

Reg Rating 75%
Price £25
More Info Alcatel