This article is more than 1 year old
Acer outs skinny dual-core desktop
AMD, Nvidia Ion on board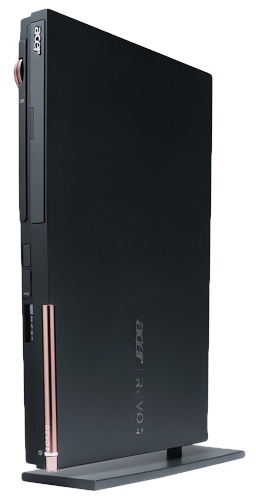 Ultra-slim desktop PC, anyone? If you fancy one, Acer has just released the Revo 100, packed with Nvidia's Ion chippery and not Intel's Atom but AMD's dual-core Athlon II Neo.
There'll be a range of Revo running at different clock speeds, but they'll all use Ion for full HD graphics output. Expect up to 4GB of 1333MHz DDR 3 memory and up to 750GB of Sata II hard drive storage to be included, depending on model.
All of them should come with Gigabit Ethernet, 2.4GHz 802.11n, three USB 2.0 ports, HDMI and a pair of Mini PCI Express slots for expansion, Acer said. Some will have Blu-ray drives, others plain ol' DVD burners.
The 300 x 180 x 25mm box with its PlayStation 2 styling runs Windows 7 Home Premium 64-bit.
Available now, Acer Revo 100 prices kick off at £600. ®