This article is more than 1 year old
Apple sells more mobile PCs than Dell
But only if the iPad is a mobile PC
Apple is now a more successful global seller of mobile computers than Dell, according to new third-quarter numbers from market watcher DisplaySearch.
The catch: it has to include iPad sales to do so.
According to DisplaySearch, Apple shipped 6.3m mobile computers - media tablets, laptops and netbooks, basically - in Q3 2010. Dell came in just behind it with shipments of 6.1m units.
Those figures give the two firms respectively 12.4 per cent and 11 per cent of the world mobile PC market.
Ahead of them both were HP - 9.5m units, 17.3 per cent market share - and Acer - 9.1m units, 16.5 per cent share. Toshiba came in fifth place, shipping 4.3m mobile computers for an eight per cent share of the market.
Q3 2010 Global Mobile Computer Shipments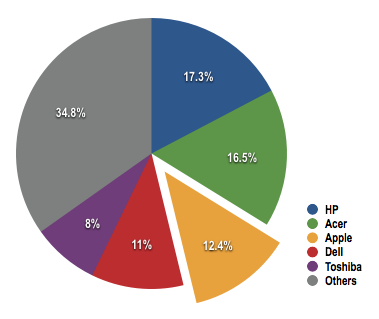 Source: DisplaySearch
The top five brands account for 65.2 per cent of the total mobile PC market, said DisplaySearch, as punters increasingly want to buy machines from companies they have heard of.
DisplaySearch reckons the iPad alone accounted for eight per cent of all mobile computers shipped in Q3, matching Toshiba's four-odd million units. Take those out of the equation and Apple's share for the quarter falls to 4.8 per cent, putting it in eighth place.
The question is, then, do you count the iPad as a computer? Fans will say yes, anti-fans will say no. Folk with a less polar viewpoint will say, 'probably'.
If you define a personal computer as "an electronic device for storing and processing data" (New Oxford American Dictionary) or as "a programmable machine that receives input, stores and manipulates data, and provides output in a useful format" (Wikipedia) then you have to allow that the iPad is a computer.
Of course, you also have to allow that almost every smartphone is a computer too, which would up Apple's market share further and bring Nokia into the frame. Sellers of Android phones probably don't ship enough of them to make the top five individually, despite the Google OS' strength as a platform. ®