This article is more than 1 year old
Google unloads Nexus S Gingerbread phone
Run, run, Apple. As fast as you can
The "Pure Google" Nexus S, announced Monday, enters an increasingly crowded, turbulent smartphone marketplace in which the eventual winner — or winners — are far from certain.
"The volume and variety of Android devices continues to surpass our wildest expectations — but we're not slowing down," wrote Android honcho Andy Rubin in a post on the Google blog announcing Monday's release.
Rubin also reiterated his company's mantra about the Nexus S: that it's "pure Google" — which he defined as having "unlocked, unfiltered access to the best Google mobile services and the latest and greatest Android releases and updates." He might have also added that the handset's OS purity means that it's unencumbered by the, ahem, improvements tacked on by Android-using hardware vendors and service providers.
More important than the new Googly smartphone, however, is Monday's release of Android 2.3 — aka "Gingerbread" — along with updated versions of the Android SDK Tools, NDK, and ADT Plugin for Eclipse. The Nexus S is simply a phone; Android 2.3 is a (semi-)open source operating system — and one that Google hopes that multiple vendors will use to further carve away at market share now enjoyed by the iPhone.
The Googlephone is more a demonstration of Android 2.3's capabilities than a mass-market product — even though it will be sold at Best Buy in the US after December 16 and Carphone Warehouse in the UK after December 20. It will be available unlocked, but you can also buy it in tandem with wireless service.
In addition, the combination of Android 2.3 and features of the Nexus S such as near-field communication point more to the future than the present. NFC, for example, will be of little use until retail shops, transportation hubs, and other locations enable NFC purchases or provide info from NFC-enabled point-of-sale or advertising materials.
The release of Android 2.3 and the Nexus S point out how competitive the features war has become in the smartphone marketplace. Check out, for example, the specs and features of the Nexus S when compared with those of two of today's top handsets, the iPhone 4 and Droid X: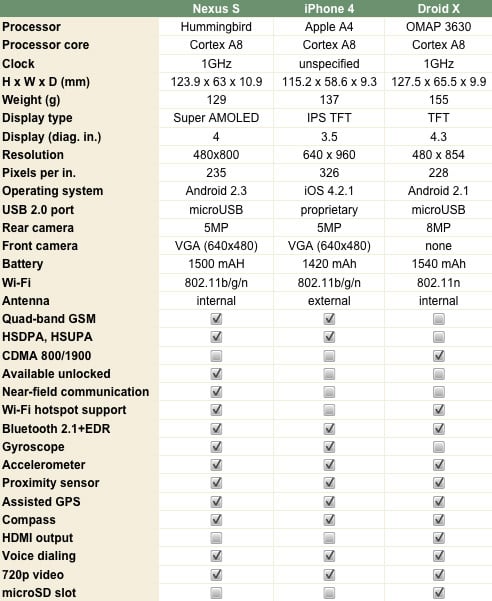 "We'll be open-sourcing Gingerbread in the coming weeks and look forward to new contributions from the Android ecosystem in the months ahead," writes Rubin. And members of that ecosystem will undoubtedly add their own brand-defining bells and whistles — along with the sadly inevitable Androidian crapware — to phones based on it.
Crap or no crap, with Android 2.3's introduction, Google is taking direct aim at two of iOS's main success vectors: game developers, with the addition of animation-smoothing concurrent garbage collection and overall snappier performance, and content producers, with the addition of support for the WebM media format, including the VP8 video codec, plus new audio effects.
The lines are clearly drawn in the Android versus iOS battle: Mountain View's strategy is to let a thousand variants bloom, while Apple's is to rigidly enforce its vision of what a smartphone should be.
As we said above, its far too early in the smartphone wars to predict winners and losers. Perhaps, as has happened in the PC space, Apple will be content to make a healthy profit as a high-value, high-cost niche player while Android supports more and more variants offered by more and more manufacturers.
And — just possibly — that Intel/Nokia mashup MeeGo may even make a run for the money. But that's one horse upon which we'd advise against betting the farm. ®